Product Name:
Electric dc motor falk couplings office appliance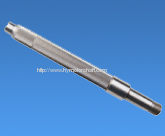 Fenghua Hengyi Micro Shaft Co.,Ltd provide components for major engineering industries such as
Automotive industry
White goods industry
Power tools industry
The precision spindles manufactured at Hengyi are between 2mm and 25mm in diameter and 400mm max. in length.
We can provide the followings:
Steel spindles, steel shafts
Stainless steel splindles, stainless steel shafts
Ground splindles, ground shafts
Gear out splindles, gear our shafts
Heat treated splinles, heat treated shafts
Fenghua Hengyi Micro Shaft Co,.Ltd is a manufacture of shafts and splidles for eletctric motors used in automotive,domestic appliance and power tools industries. High Volume production, Micro tolerance applications. Using turning,,cutting,grinding, gear cutting, rolling and heat treatment technology.