Prodcut Description
Feed silo belongs to main feed line, combined with hopper, feed conveying pipe, auger, drive motor, sensor, hanging system and others to be silo feeding system with fully automatic control.

Main feed line used to deliver feed from silo to the hopper for breeder or broiler through conveying pipe in the poultry house.


Sensor at the end of main feed line, designed to control on/off of the drive motor for realizing feed delivering automation.

Technical Parameters of Feed Silo
| | | | | |
| --- | --- | --- | --- | --- |
| Model | Volume (m3) | Height(m) | Diameter(m) | Material |
| JD-C18 | 4.10 | 3.50 | 1.80 | Galvanized |
| JD-2C18 | 6.60 | 4.83 | 1.80 | Galvanized |
| JD-3C18 | 8.70 | 5.73 | 1.80 | Galvanized |
| JD-C205 | 9.00 | 4.70 | 2.05 | Galvanized |
| JD-2C205 | 11.08 | 5.60 | 2.05 | Galvanized |
| JD-3C205 | 14.60 | 6.50 | 2.05 | Galvanized |
| JD-C245 | 9.63 | 4.70 | 2.45 | Galvanized |
| JD-2C245 | 13.80 | 5.60 | 2.45 | Galvanized |
| JD-3C245 | 17.90 | 6.50 | 2.45 | Galvanized |
| JD-C275 | 10.68 | 4.70 | 2.75 | Galvanized |
| JD-2C275 | 17.00 | 5.60 | 2.75 | Galvanized |
| JD-3C275 | 21.18 | 6.50 | 2.75 | Galvanized |
| JD-C305 | 14.92 | 4.70 | 3.05 | Galvanized |
| JD-2C305 | 21.46 | 5.60 | 3.05 | Galvanized |
| JD-3C305 | 27.03 | 6.50 | 3.05 | Galvanized |
Technical Parameters of Conveying System
| | | | |
| --- | --- | --- | --- |
| Item | Pipe Φ75 | Pipe Φ90 | Pipe Φ125 |
| Conveying Capacity | 1400kg/h | 2500kg/h | 4500kg/h |
| Max Delivery Distance | 60m | 40m | 25m |
| Gear Motor (300rpm) | 0.55/0.75kw | 0.75/1.1kw | 1.5kw |
| Pipe External Diameter | 75mm | 90mm | 125mm |
| Material/Thickness | PVC/3.3mm | PVC/3.5mm | PVC/5mm |
| Bend Radius -45°/90° | 1750mm | 2550mm | 2750mm |
| Helical Outer Diameter | 60mm | 70mm | 100mm |
| Helical Slope | 60mm | 65mm | 70mm |

Poultry Farm Equipments Feed Silo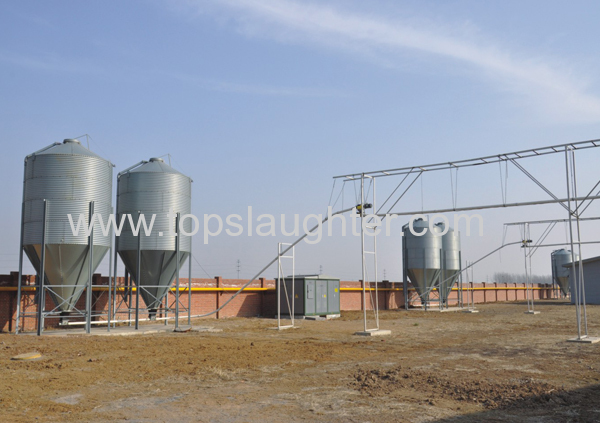 Feed Bunker