C&C 310ml Flower Tea Cups With Cover Borosilicate Glass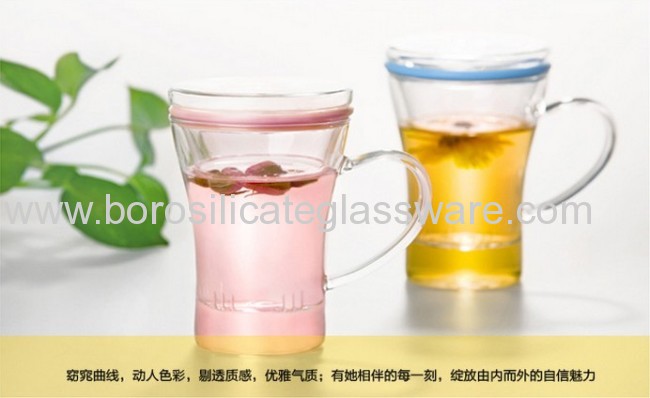 Capacity:300ml (Client's Requirement)
Height:12cm
Top Diameter:8.5cm
Usage: Coffee or Tea
Feature:Pure hand made
Why Us ?
1. All our products are able to endure sudden temperature changes from -20°C to 150°C in extremely short time
Questions: Are this kind of glass wares safe ? Does they easily broken and fragile ?
Answers: Borosilicate glasses are known for having very low coefficients of thermal expansion(-20°C--150°C), making them resistant to thermal shock, more so than any other common glass.In addition,it is much lighter in weight but more solid in molecular structure,thus even with small thickness,it also could reach high strong intensity and so more durable than traditional soda lime glass.
C&C Glass uses high quality borosilicate glass and pay more special attention to the thickness of products,make them thicker but firm and comfortable when you hold them.Therefore,C&C products are one of the most safest and popular products in the market
2.Sophisticated Hand Blown Craftsmanship,Uniform Mold
As a more advanced glass material,Borosilicate glass were widely used in Chemical and Medical industry and High end Kitchenware in most European and American countries.With sophisticated mouth blown craftsmanship,workers needs to constantly rotate the glass embryo in order to heat the glass uniform.This is the most significant special features of hand made glasswares compared with other glasswares
3.Clear borosilicate glass which is free of smell and flavor,does not discolor and show high chemical and mechanical resistance.Therefore it is eco-friendly and safety to human body
Learning
Glass tea set on the surface is transparent, but inside there is a very big difference. General authentic tea set, glass thickness, sunlight is very transparent, and percussion sound under very crisp. Mostly through thermal processing, there will be no cracking.
Individual glass tea set, although the price is relatively cheap, but percussion some tightness, and relatively turbid, thermal performance in general. Particularly boiled herbal tea glass teapot, if heat resistance is poor, the risk is big!

Cleaning Method
(1)Using the metal bonle, can become black because of the dirt, such as the use of medium-sized cleaner also wash not to drop, usable vinegar soak, or can be easily detergent after soaking with bleach.
(2) Get rid of the cup or teapot tea scale, teacup, teapot with long, will be composed of a tea scale, friction with sponge dipped in salt and can be easily removed.
(3) Get rid of the small scale tea, it can be soaked in bleach or detergent powder in the solution, and placed a night, can remove the dirt.
(4)Can use toothpaste or broken egg shell scrub, reoccupy clear water rinse