------- Electric Heater Element Advantages
1.Energy efficient
2.Broad variety of sizes for different applications
3.Compact
4.Moisture and contaminant resistant
5.Easy to instant
6.Easy to maintain
7.Designed and built for safety
| | |
| --- | --- |
| Packaging Detail: | 1pc/polybag,100pcs/ctn |
| Delivery Detail: | 30days |
-----Technological Proces flow:
elctrical wire winding—making TFP structure — filling MGO powder— contracted pipe—annealing —polishing—Bending—assemble the parts and components—Flange joint—Insulator seal—Welding Terminal strip or wire— Testing(including NTC sensor installation)— Packing
------Prdocution Picture: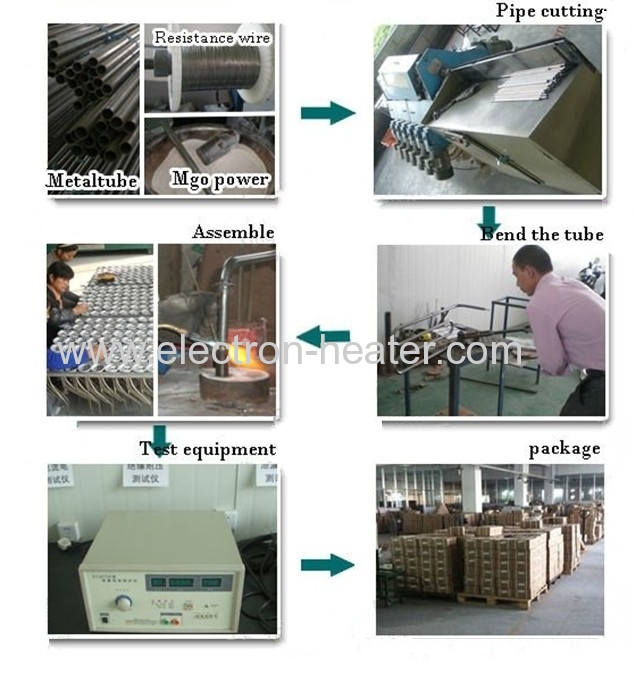 -------Products Picture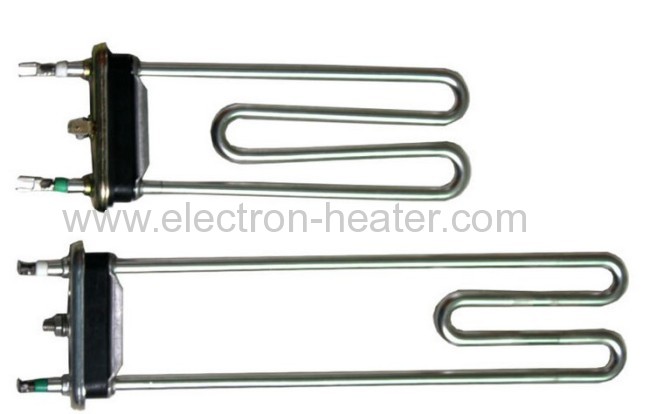 ------Structure
Tube heater elements are made of metallic tube, heating alloy wire and mgo. The material of metallic tube is Stainless Steel, iron, copper and so on. In the middle of the tube, there are spiral alloy wire (nickel-chrome, ferrochrome)and be filled with the mgo . as the insulation thermal conductivity. The two ends of the tube is sealed with silicone.
------Advantage
It could heat air, metal mold and kinds of liquid. It has a simple structure, high mechanical strength, high thermal efficiency, safety and reliability, ease of installation, long service life and so on.
It can be used for all kinds of saltpeter, water tank, oil tank, acid tank fusible metal heating and melting furnaces, air heater, oven, hot die and other devices.
-------Electric Heater Element Application
1. Caustic Cyanide used in gold processing
2.Hot water storage
3.Asphalt Wax
4.Caustic solutions Detergent
5.Sterilizing equipment
6.Heating oils
7.Plastic processing&packaging machinery
8.Ovens&dryers
9.Dies&Tools
10.Water& Oil heating appliances
11.Vending machines
12.Kitchen equipments
13.Medical equipments
------When you order, pls advise when inquiry:
(1). Material
(2). Wattage and Voltage
(3). Diamensiom of the tube and APPROX length of the heating tube
(4). Drawing required for special configuration
(5).Trial or Sample order is also welcome.


------We guarantee:
(1) every piece of product is under strict test before dispatching
(2) higher quality than normal market products