Product name:
Water Solenoid Valve
Model Number: 2W160-15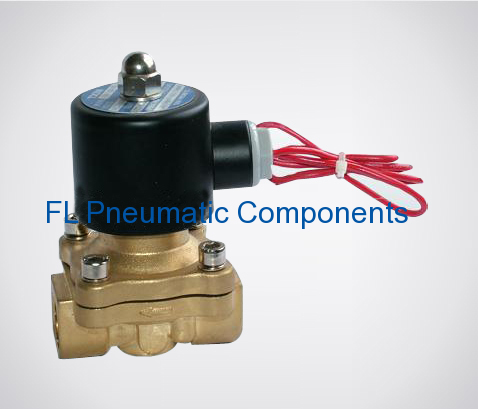 -----
Solenoid Valves for Water Application
Product Features of
2/2 Way Fluid Control Valve
:
1. Direct acting and normally closed type 2/2 way solenoid valve. It's high sensibility allows it to change direction quaickly.
2. It has wide pressure range.
3. It is compact, small size and light weight, which makes it easy to install and dismantle.
4. The body of valve is made of brass.
5. The protection class of coil is IP65.
Specification of
Water Solenoid Valve
:
Model
2W160-10
2W160-15
2W200-20
2W250-25
2W350-35
2W400-40
2W500-50
Fluid Medium
Air,Water,Oil,Gas
Acting
Direct acting
Type
Normally closed
Aperture of Flow Rate(mm)
16
20
25
35
40
50
CV Value
4.8
7.6
12
24
29
48
Port Size
G3/8
G1/2
G3/4
G1
G1-1/4
G1-1/2
G2
Viscosity Limit
Under 20CST
Pressure Range
Water,Oil:0--0.5MPa; Air,Gas:0--0.7MPa
Proof Pressure
1.05MPa
Temperature
-5--80℃
Voltage Range
+/-10%
Material of Body
Brass
Seal Material
NBR,EPDM or VITON
Symbol of
2/2 Way Fluid Control Valve
:
Odering Code of
Water Solenoid Valves
: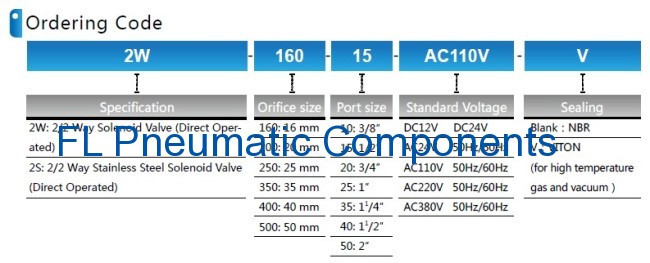 Dimension of
Water Solenoid Valves
: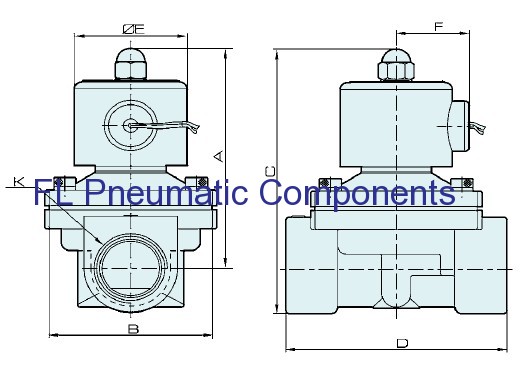 Structure of
Water Solenoid Valves
: