product name High Quality Sintered Neodymium Ring Magnets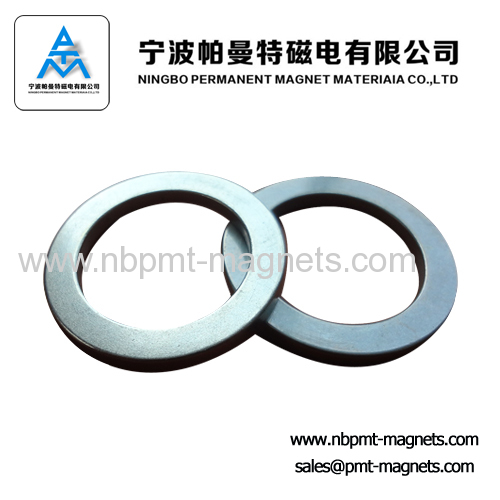 1 Material: Sintered Neodymium-Iron-Boron.
2 Size: Block, Sphere, Disc, Ring,Segment,Cylinder, Sheet and so on. We can do other shapes as your requested
3 Magnetic property: From N35 to N52, 35M to 50M, 35H t 48H, 33SH to 45SH, 30UH to 40UH, 30EH to 38EH;
4 Coating: Zn, Nickle, silver, gold, epoxy and so on.
5 The Max Work Temp: from 80C°to 200C°.
6 Application: sensors, speakers, brushless motor, DC motor, Step motor, wind turbine/wind generator, magntic hooks, magnetic filter, cup magnet, Automobiles, magnetic coupling, magnetic chuch, permanent magnetic lift, and so on.
7 Certification: ISO 9001:2000 ISO/TS 16949 SGS
About Products
With a high coercivity, low temperature coefficient, low weightlessness, the highest coercivity (Hcj) ≥35KOe, the temperature coefficient aBr<-0.1% °C-1, bHcj<-0.45% °C -1, HAST test of low weightlessness corrosion resistant series (T series) (130 °C, 0.26MPa, 95% relative humidity), 20 days of weightlessness ≤ 2.0mg/cm2, they are widely used in DC motors, generator, and wind turbine.
Slat Spray Test: Nickel (NiCuNi): over 72 hours;
Epoxy: 72 hours;
Zinc: over 48 hours;
Grades: N35-N54, N30M-N52M, N30H-N50H, N30SH-N45SH, N28UH-N42UH, N26EH-N38EH, N28AH-N35AH
Manufacturing Technique: We adopt new Sintered Neodymium magnet techniques and equipment such as strip casting, HDDR technology.
High coercive force, max is over 35KOe,
(BH)max from 28 to 55MGOe,
Max working temperature up to 240°C;