Application of Single Cylinder Hydraulic Cone Crusher :
The Cone Crusher has been developed to crush high or medium hardness material, such as iron ore ,copper ore, limestone, quartz, granite, and sand stones, etc., in metallurgical, construction, road building, chemical, silicate Industries. This crusher has the advantage of reliable construction, high prod activity, easy adjustment and less cost in operation. Standard type is for PYZ (secondary crush); middle type is for PYD (tertiary crush); short-head type is for primary and secondary crush.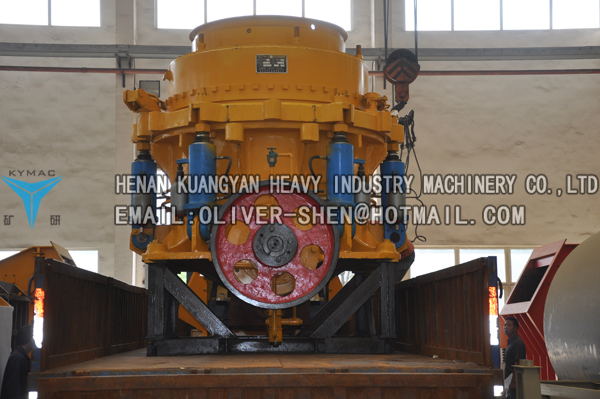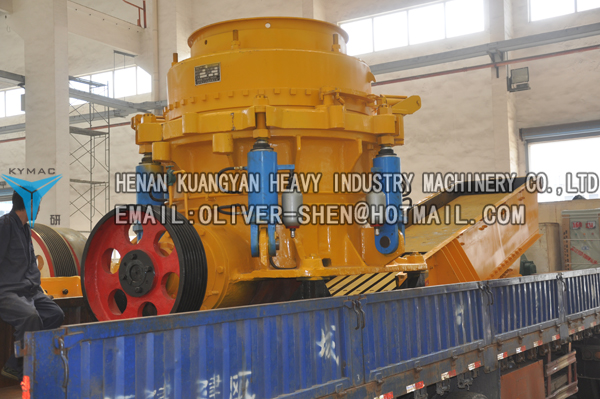 Working principle of Single Cylinder Hydraulic Cone Crusher :
The crusher consist of frame, transmission device, hollow eccentric shaft, bowl-shaped bearing, crushing cone, springs and hydraulic pressure station for adjusting discharge opening.
During operation, the motor drives the eccentric shaft shell to turn around through ahorizontal axle and a pair of bevel gear. The axle of crushing cone swings with the force of eccentric shaft shell so that the surface of the crushing wall is close to the roll mortar wall from time to time. In this way, the ores and rocks will be pressed and crooked and crushed.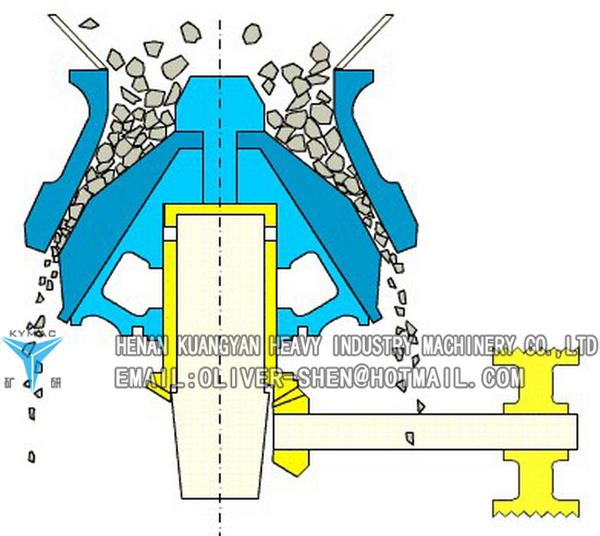 Features of Kuangyan Brand Single Cylinder Hydraulic Cone Crusher:
1. Our cone crusher has the characteristics of large breaking force, high efficiency, high crushing capacity, low operating cost and long service life. It is convenient to operate and is economical.
2. The crushed materials are of equal size, thus reducing circulating load.
3. Large and medium-sized crushers adopt hydraulic chamber-cleaning systems, which will help reduce the down time.
4. Cone crushers with different chambers are available, to meet our customers' requirements.
5. Grease seal can effectively avoid the blockage of water feeding system and drainage system, as well as mixing of water and oil.
6. As the overload protection device, spring safety device allows foreign matter and iron pieces to pass through the crushing chamber without jeopardizing machines.
Structures of Kuangyan Brand Single Cylinder Hydraulic Cone Crusher:
1. This crushing equipment has compact structure and high productivity. It adopts bowl-shaped bearing which has high precision. Concentrated thin oil lubrication system is also used.
2. The size of the discharge opening can be adjusted by propelling cylinder. When the materials that can not be crushed enter into the crushing chamber, the spring safety device can protect the equipment.
3. This machine adopts grease seal to avoid mixing of water and oil. When sealing parts are worn, spring can help them recover sealing function. When the thickness of sealing part reduced to 1/4-1/3 of the original thickness, users should replace the sealing part.
Main Technical Parameters of Single Cylinder Hydraulic Cone Crusher:
model
moving cone
diameter (mm)
cavity
type
feed size
(mm)
discharge size
(mm)
capacity
(t/h)
spindle rotate
speed (r/min)
power
(kw)
weight
(t)
overall
dimensions (mm)
2ft
600(2')
fine
72
6-38
16-54
575
22
6
2195×1158×1651
coarse
109
9-38
18-68
special coarse
109
13-28
23-72
3ft
900(3')
fine
102
9-22
45-91
580
75
15
2656×1746×2241
coarse
175
13-38
59-163
special coarse
178
25-38
118-163
4ft
1200(4')
fine
131
9-31
63-188
485
110
20
2656×1974×3112
medium
156
13-38
100-200
coarse
191
19-51
141-308
special coarse
250
25-51
190-317
4 1/4 ft
1295(41/4')
fine
137
13-31
109-181
485
160
27
2809×2354×3156
medium
210
16-38
132-253
coarse
241
19-51
172-349
special coarse
259
25-51
236-358
5 1/4 ft
1676(51/2')
fine
209
16-38
181-327
485
220
55
3911×2870×3771
medium
241
22-51
258-417
coarse
269
25-64
299-635
special coarse
368
38-64
431-630
7 ft
2134(7')
fine
278
19-38
381-726
435
315
110
4613×3251×4732
medium
334
25-51
608-998
coarse
369
31-64
789-1270
special coarse
460
38-64
880-1361
Company Description
Henan Kuangyan Heavy Industry Machinery Co., Ltd. is a joint-stock enterprise which produces large-sized and medium-sized crushers and mills, mining equipments, and light AAC brick/block making machines.
Under such circumstances, we make full use of the good opportunity and try our best to have a great progress in technical transformation, innovation, improving the quality of products, and continuously expanding the domestic and overseas markets. Through years of development, our products have gained a favorable comment from markets all over the world. As the leading company in crushing & milling fields, we have developed series of newly-designed crushers by absorbing advanced scientific technology & processing experience from abroad and our experts' continuous research. It has been proved that our crushing products have covered a good market share both in domestic and overseas for high quality & easy maintenance.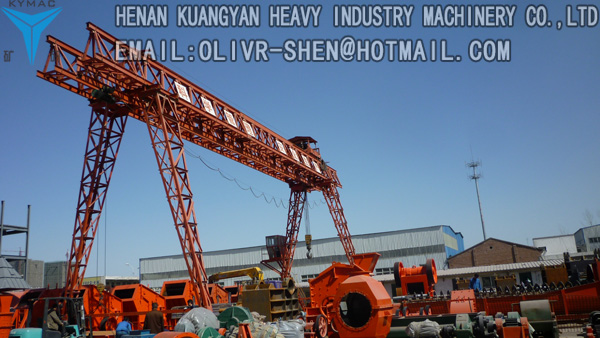 Certificates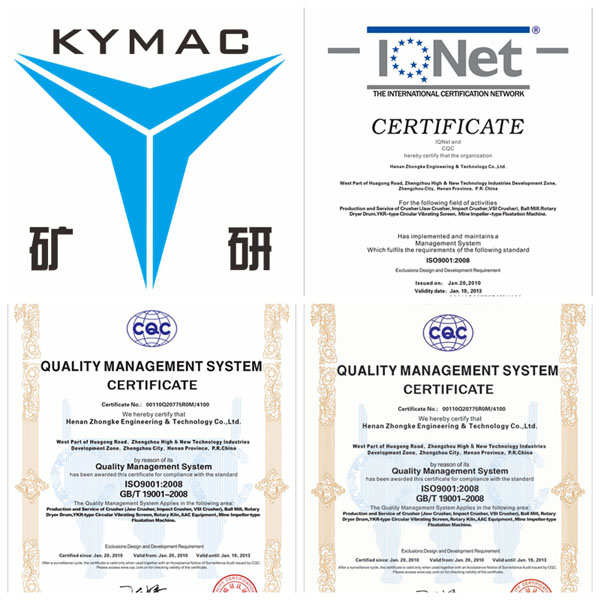 Workshop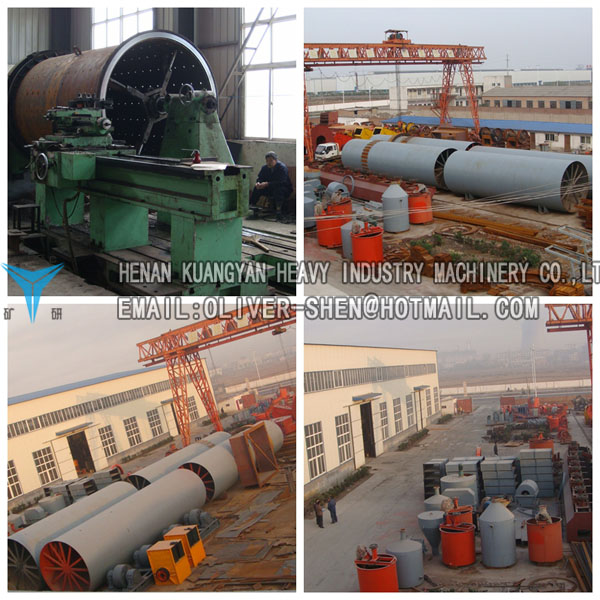 Delivery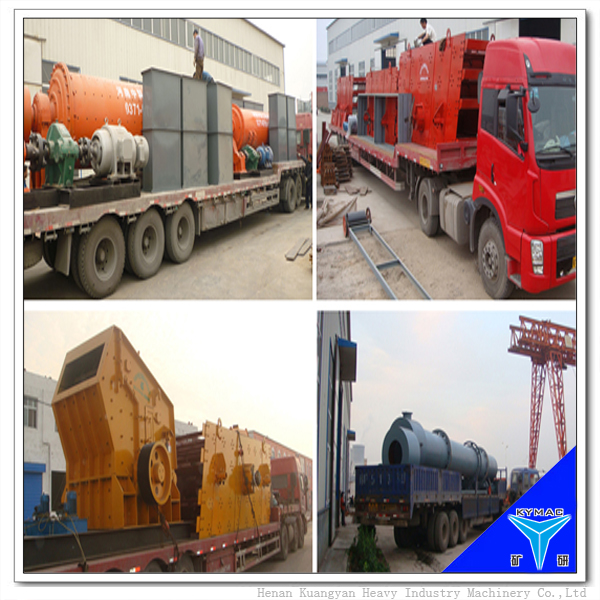 International Cooperation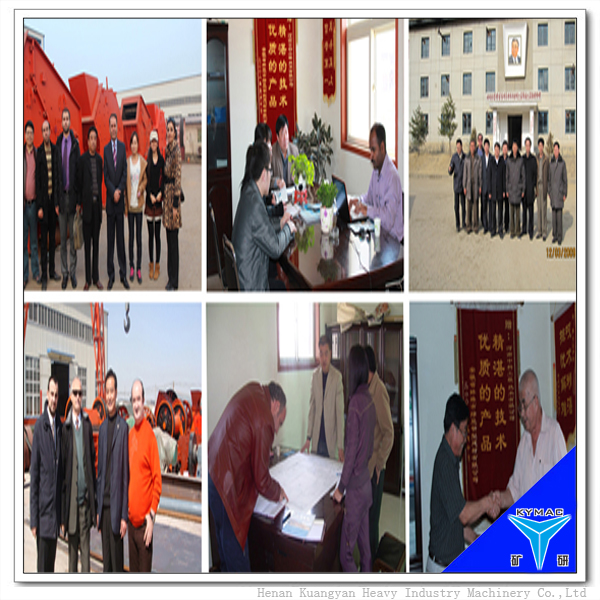 Our service
1>.Pre-sale services: enthusiasm
We provide you with the prophase plan, process flow design and manufacturer equipment according to your special demand.
2>.Sale services: servant
Send technicians to the jobsite for guiding the installation and adjustment, training operators and finishing the check and accept together with you.
3>.After-sale services: faithfulness
To establish long term friendship, we will regularly pay return visit to customers. Supplying technique, building design, instruction, installation and debugging for free.
4>.We provide one-year warranty to make sure your machine runs consistently.
We always offering lifelong services and provide spare parts for a long term.