High Capacity Movable Step Cutting Machine
AAC Block Cutting Machine
Cutting Machine is the main equipment of Autoclave Aerate Concrete production line as well as the core machine of AAC production line with annual production capacity over 50000 Cubic meters. It's the necessary equipment to improve yield and quality. JQF series Cutting Machine we produce can turn the blank twice, and do the six-side cutting. With the high technology, the turnover can be finished only by one time, which protects the blanks from damage due to many times' lifting. Our products are sold well in our country and gained honor from many customers. After many years' technical reform, now we have developed many models of concrete cutting machines.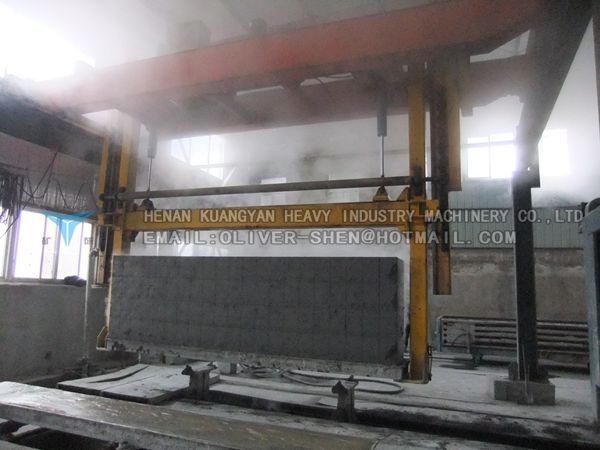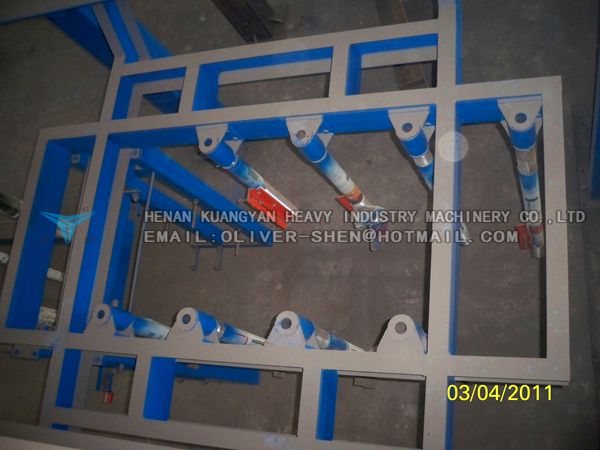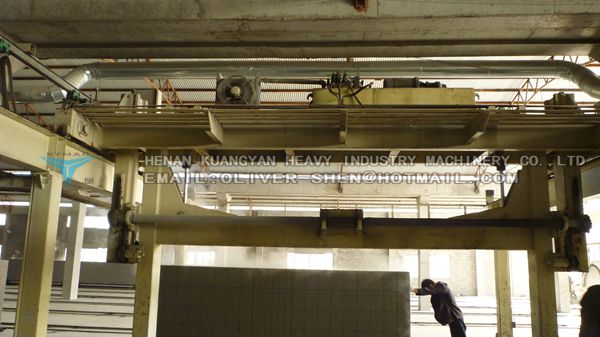 The working principle of Autoclave Aerated concrete cutting machine :
Aerated concrete slab body along with bottom board into roll-over table back to cutting machine direction to small slide set, 90 degrees turn by small slide then move the body to cutting position, first to billet body level cutting all around, and in the longitudinal cutting. After cutting the porcelain body again by small slide portable to flip set, take the direction given photo-cell 90 degree reversal to reverse the stage. The whole process automatically.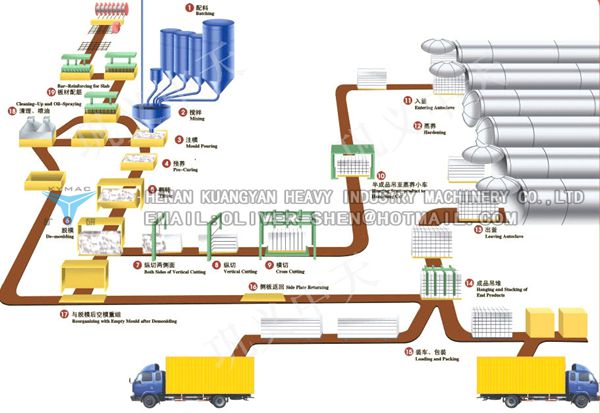 Turnover cutter in our company has the following advantages:
1.Compact structure, easy operation and little maintenance;
2.Cross cutting and vertical cutting finished once;
3.Hexahedral cutting of the blank, product precision in accordance with GB/T 11969-1997;
4.Can meet the plank production requirements, product precision in accordance with GB/T 15762-1995;
5.All waste materials shall be reclaimed, by which secondary pollution will not be resulted in;
6.Blank not conglutinated;
7.The crosscut adopt screw transmission, solved the hydraulic transmission is not synchronized.
8.Mechanical system didn't limit and interlock, can prevent the accidents from improper operation of the equipment.
9.With equipments to replace steel wire rapidly;
10.No bowtie and crack.
Main Technical Parameters:
number
size
size of the cake
before cutting (mm)
cutting cycle
capacity
(m3/year)
cutting precision
(mm)
power
(kw)
outer size of
the machine (mm)
1
4M
4050x1240x650
6 Block/minute
>100000
six-side cutting<±2
34
13800x4200x5600
2

4.2M

4250*1240*650

6 Block/minute
>150000

six-side cutting<±2
34

13800*4950*5870

3
6M
6050*1540*650
6 Block/minute
>200000
six-side cutting<±2
37
17500*4600*6000
Company Description
Henan Kuangyan Heavy Industry Machinery Co., Ltd. is a joint-stock enterprise which produces large-sized and medium-sized crushers and mills, mining equipments, and light AAC brick/block making machines.
Under such circumstances, we make full use of the good opportunity and try our best to have a great progress in technical transformation, innovation, improving the quality of products, and continuously expanding the domestic and overseas markets. Through years of development, our products have gained a favorable comment from markets all over the world. As the leading company in crushing & milling fields, we have developed series of newly-designed crushers by absorbing advanced scientific technology & processing experience from abroad and our experts' continuous research. It has been proved that our crushing products have covered a good market share both in domestic and overseas for high quality & easy maintenance.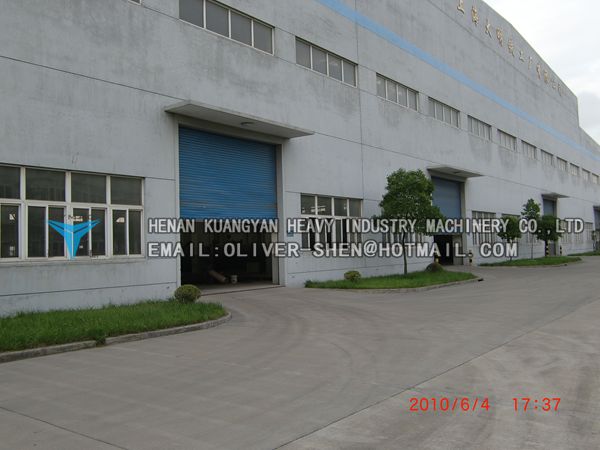 It's our mission to provide superior service for you!
1. Pre-sale services:
Act as a good adviser and assistant of clients, enable them to get rich and generous returns on their investments.
1>. Select equipment model;
2>. Design and manufacture products according to clients' special requirement;
3>. Train technical personnel for clients.
2. Services during the sale:
Respect clients, devote ourselves to improving the total value of clients.
1>. Pre-check and accept products ahead of delivery;
2>. Help clients to draft solving plans.
3. After-sale services:
Provide considerate services to minimize clients' worries.
1>. Assist clients to prepare for the first construction scheme;
2>. Install and debug the equipment;
3>. Train the first-line operators;
4>. Examine the equipment;
5>. Take initiative to eliminate the troubles rapidly;
6>. Provide perfect service;
7>. Provide technical exchanges.