Electric Cable Pulling Winch Machine
1.Electric Cable Pulling Winch
2.Uses: To lay cable in underground trench ,pipe or air tray
3.Maximum steelrope diameter (mm):10
4.Weight (kg):79
Order number

21126

21127

21128

Name

Electric winch

Dual-drum electric winch

Multi-function electric winch

Model

DJ10

DJS10

DJD10

Linepull (KN)

12.8

12.8

6.5

12

Pull Speed (m/min)

7

7

14

7

Bottom of groove diameter (mm)

Φ128

Φ128

Φ256

Φ128

Maximum steelrope diameter (mm)

Φ10 wirerope

Φ10 wirerope

Φ10 fibre rope

Φ14 fibrerope /Φ10 steelrope

Power (kw)

1.5

1.5

1.5

Dimension (mm)

820×420×400

820×420×400

820×600×1200

Weight (kg)

79

90

126
Application : applicable to lay cable in underground trench ,pipe and air tray .
Feature :1. It is equipped with REXNORD SK4 bevel gear reducer ,integrated brake motor ,lightweight .
2.model DJ10 and model DJS10 with trail grip for easy of handle .
Note : 1.if adopt generator supply electricity from your own engine , the power of generator not less than 3kw
2. model DJD10 multi –function electric winch is equiped with three type orifice guide sleeve ,suitable for Φ100. Φ90 Φ65mm cable orifice ,either equip the orifice sleeve according to customer requirement .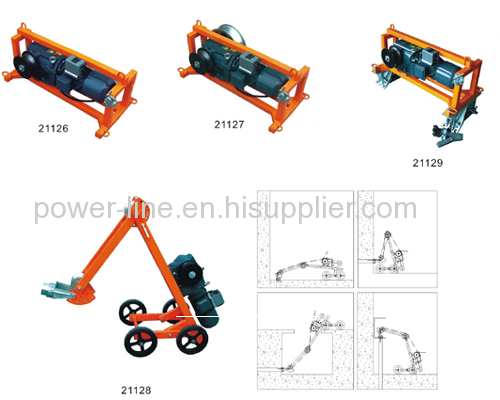 Power winch plays very important role in conductor line transmission operations. As we all know,conductors are produced in drums or bundles,so in transmission,we have to use power winch to spread the conductors. Besides spreading wires, winch machine can also used to tightening cables. And helps a lot in erecting towers which is a necessity in overhead line transmission works.
Due to its sringing and hoisting capabilities,power winch can not only used in line transmission,but also in building constructions as winding machine or winch windlass.
In loading and unloading,we should rely on its machinery strength,so we can see them in wharfs.Though it is mostly used in electric line constructions,because its remarkable strength,it becomes good helper in hoisting and widely used in other fields.