HDPE Socket Fusion Equal Tee Pipe Fittings
***Advantages and welding of PE pipe fittings:
PE pipe fittings is light, which is more common for partial application pe80 pe100 grade level and two standards , including :
PE80 density of about 0.94 g / cm 3, PE100 density of about 0.96 g / cm 3 ;
Easy thermoplastic - easy to process ( such as injection molding, extrusion molding
Remanufacturing easy recycling
Good resistance to radiation and chemical stability
Good resistance to cold , the temperature can be -40 ℃ to
Excellent electrical insulation properties , is not affected by electrolytic corrosion
Malleable - extended break PE80> 700% PE100> 600%
Anti- erosion resistance - 8 times better than steel
Approximately half of the low thermal conductivity of glass
Smooth surface , unlike the role of metal pipes rust easily with oxygen crusts
pe pipe connection into fused pipe connections and fittings connected to melt , the more ordinary side, the other , as well as socket connections, this method is applied to a small size.
1 , fused connection : Follow these steps: First check , and then is cut pipe , pipe fittings joints clean , scrape the oxide layer , connecting the two parts of the tube and pipe fittings , calibration welder , welding parameter adjustment in accordance with the welding voltage, welding Dimensions , electricity, welding, and then finally cooled.
2, the hot melt connection : the inner surface of the pipe surface and the pipe is inserted while the welding is non-rotating die head is heated for a few seconds , then quickly removed and welding device , the heat pipe has a fast vertical insertion tube , packing, cooling to .
3 , socket connections, relatively simple, not elaborate here .
***Quality and Inspection of HDPE socket fusion equal tee pipe fittings
1.Check the socket member and the socket member whether positive
2.Between the socket member from the socket member and the molten material is extruded on the outer circumference should be uniform throughout the
3.The welding area should not have impurities, shrinkage or other damage
4.Should dissolve some phenomena soldering temperature is too high or too much pressure caused appear:
If the wall collapsed, curling too large or shape is not correct and so on.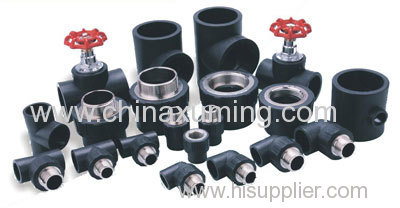 ***Specifications of HDPE Socket fusion equal tee Pipe Fittings

Size
D(mm)
H(mm)
L(mm)
T20
26
26
52
T25
32
30
60
T32
41
35.5
71
T40
51
42
84
T50
63
50
100
T63
79
60
120
T75
88
63
125
T90
105
75
155
T110
127
90
190