PE-Steel Male Threaded Adapter Pipe Fittings
PE-Steel adapter: Connecting PE pipes and pipe fittings.
Anticorrosive epoxy coating using a coating of 400u above, do not need to use anti-corrosion treatment when you use the pe-steel adapter.
***Features of pe-steel adapter:
Entirety formed pipe fittings; it can be connected with polyethylene pipeline by using electro heating fusion casing or heat-fusion butt jointed.The seamless steel pipe connected polyethylene end firmly,adopted the end seal technique,wihi anti-shift measures and reinforcing sleeve guard.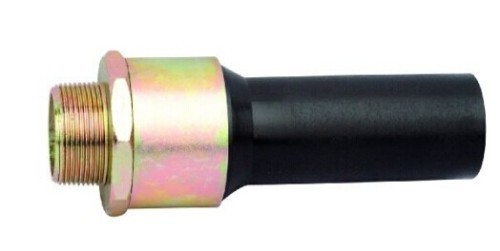 ***Pipe SDR* And Rated Pressure Relationship
Material

Design Sreess

N/mm2

Nominal Pressure (PN)

4
6
8
10
12.5
16
PE100
8.0
SDR41
SDR26
SDR21
SDR17
SDR13.6
SDR11
PE80
6.3
SDR33
SDR21
SDR17
SDR13.6
SDR11
SDR9
PE63
5.0
SDR26
SDR17.6
SDR13.6
SDR11
SDR9
SDR7.4


**Specifications of pe-steel male adapter pipe fittings
Size

Out Diameter of

PE Pipe (ΦD)

L(mm)
Φa(mm)
b(mm)
Dn25x3/4"
25mm
170mm
80mm
25mm
Dn32x3/4"
32mm
170mm
80mm
25mm
Dn32x1"
32mm
170mm
80mm
25mm
Dn40x1"
40mm
170mm
80mm
25mm
Dn40x11/4"
40mm
170mm
80mm
25mm
Dn50x112"
50mm
170mm
80mm
25mm
Dn50x2"
63mm
170mm
80mm
25mm
Dn63x2"
63mm
170mm
80mm
25mm
***OUr workshop