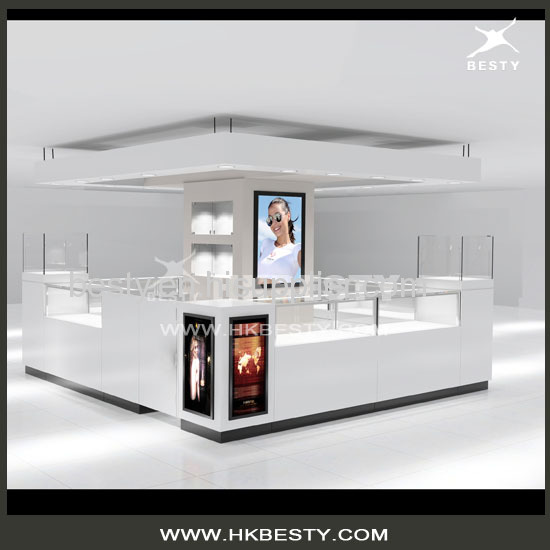 Design Concept:
The Kiosk was designed use low rental area into a sales area. Customer flow around the Kiosk. Ease of customer contact with the staff as they are right beside the customers. Fast meet and greet. Powerful selling counter displays. A real "Money Machine". The Kiosk is also designed to fit together like LEGO. This makes fit out time fast saving high local labor costs.
Cabinets:
The display draw is mounted on very strong running rails. The rails are the highest quality Chinese or German manufacture. They can be push in pull out or touch auto open auto close. The locking system can be either turn to lock or turn to open and auto lock on closing.
This counter comes with a unique draw system. The display pad remains in the counter keeping the stock unmoved and visible. It does not move from the customers eyes when selling. This is a proven sales increase feature. There can be a small draw under the display pad. This can be used as back up stock holder or it can be used to place stock when the staff are putting it out. Great security feature. No stock on counter when it is being ticketed or put out for display.
There are two locking cupboards with removable shelf under. One or two or no draw under display draws. Made to your requirements.
The glass can be 10mm tempered or laminated on your request. The glass can be standard certified or crystal clear.
Lighting and Electricla:
The LED lighting is built in. High power bars front and back with six spot lights each side of the display. Giving the perfect balanced illumination. Our experts can advise you on the exact colour of light that best illuminated your product. Normally this is 6000K bright white. The lights have a built in CMOS chip built in to help protect against static electricity damaging the LED diodes. The LED spot lights are designed by us for quick replacement in the unlikely event that they fail in the future. This gives piece of mind and very low ongoing maintenance.
The electrical work is ready to just plug in. It is approved to your country's specification regardless as to if it's the USA, Canada, EU or Australia. Australia and New Zealand even have SAA and C Tick approvals. Nearly impossible for most other Chinese companies.
Finish:
The finish can be done many ways. Either high gloss (piano) finish. Matt finish or veneer wood finish in either natural oiled or acrylic coated. Our paint work is done in our own designed three painting rooms. There are two base coats and four finished coats. Each coat is hand polished. This gives superior luster and perfect immaculate finish.
The joinery is to exacting tolerances. Our joins are invisible to the naked eye. When veneer is used many of our customers have argued that it must be solid wood as they can see no veneer joins.
So if you demand the highest standards in quality, durability and certification you have found it.