The bottom of the tooth
This product is a unique design of footwear accessories, it can help users trust in ice, snow, mud, sand and damp places free walk, don't afraid of slipping, this product is designed for everyone, from children to old man, from walking to the workers, if there is a pair of non-slip bottom, you can rest assured.
Feature:

♦ Strong spikes, High elastic silicone
♦ Scratch resistance, durable, never be out shape
♦ Non-toxic, odorlessness
♦ Good partner for mountain climber
Super elastic Flexible and durable
18 tooth:crampon/magic spike/ice spike/ice shoes cover/ice boot cover/ice grippers/ice cleats/ice grip/ice grabber/ice gripper
Pictures of snow safety foot cover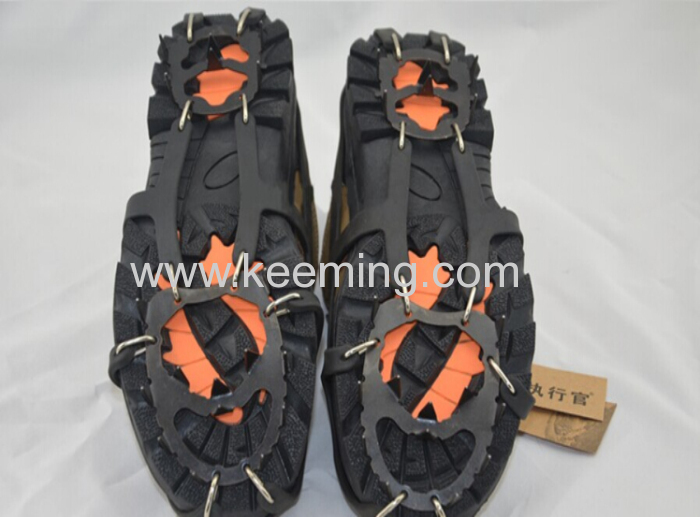 USAGE:
When youwalk, work or run in a pair of Ice Cleats on snow or ice, you will feel the samesolid predictable grip you are accustomed to feeling on dry surfaces. There isnothing new to learn, it helps prevent slips and falls, reducing the risk ofpossible pulled muscles, fractures and back problems
1,materialis:TPE, no bad smell
2. Ice shoespikes provide excellent traction on slick surfaces
3. Cold Resistance:-40C
4. Provideexcellent traction on slick surfaces
5. ice spikes fit allkinds of shoes
6. spikes offer excellenttraction on ice and snow
7.Snow & Ice shoespike is also great for: ice fishing, walking, sledding, hiking, stream flyfishing and hunting. Use anywhere traction is needed
8.spike Safety Treads.Sure footing on any surface! No more slip-ups on the frozen lake or icysidewalk.
9. Ice spikesLightweight, put on and take off just 5 seconds.
10.Products:Ice Cleats, Shoe Spikes, Snow Grips, Magicspike, Ice Grips, Schuhspike, IceSpikes
11.MARKET: UK, Russia,USA, Canada,Australia supermark
WISH YOU CANTO BE OUR SALE AGENT IN YOUR COUNTRY!