Servo Motor Permanent Magnet
Specifications
Servo Motor Permanent Magnet:
1.Superior magnetic properties,
2.High TwC,
3.SST:24/48/72 hours,
4.Low weight loss

Servo Motor Permanent Magnet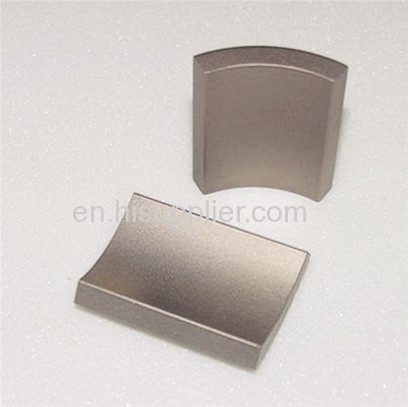 Servo Motor Permanent Magnet
Magnet Information
Description
Servo Motor Permanent Magnet
Material:
Neodymium-Iron-Boron
Shape:
Ring, Thin-wall ring, Disc, Cylinder, Segment,Contersunk, Tapezoid, Irregular Shape…With special shape requirement, we have own R & D dept. to support
Coating:
Ni-Cu-Ni, Nickel, Zn, Gold, Cr, Silver, Copper, Anti-Rust Oil, Spray Rolling, Black, Grey Epoxy, PTFE, Parylene, and so on.
Magnetic Performance Sheet
Grade
Remanence(Br)

Coercivity(BH)

max kJ/m3

Temperature
mT
KJ/M3
(Tw°C)
(kGs)
MGOe


N35-N52
1170-1480
263-422
80 °C
(10.3-14.8)
(33-53)
35M-50M
1080-1450
263-406
100 °C
(10.8-14.5)
(33-51)
35H-48H
1170-1430
(263-390)
120 °C
(11.7-14.3)
(33-49)
35SH-45SH
1130-1380
247-366
150 °C
(11.3-13.8)
(33-46)
30UH-40UH
1080-1280
263-326
180 °C
(10.8-12.8)
(33-41)
30EH-38EH
1080-1250
223-310
200 °C
(10.8-12.5)
(28-39)
Magnet Coating
Coating
Thickness (Microns)
Color
Resistance
Anti-Rust Oil
1
Trancparency
Temporary Protection
Spray Rolling
10-30
Common Black
24 hours of salt spray test
Zinc
5-10
Bright Blue
24 hours of salt spray test
Nickle
10-15
Bright Silver
48 hours of salt spray test
Ni+Cu
10-20
Gold
Temporary Protection
Ni+Cu+Epoxy
15-30
Grey, Black
Excellent Against Humidity
& Salt Spray
Epoxy
15-25
Grey, Black
72 hours of salt spray test
Parylene
10-30
Trancparency
200 hours of Salt Spray. Superior Against Solvents, Gases, Fungi and Bacteria
Servo Motor Permanent Magnet
Description
1. Material: Sintered Neodymium-Iron-Boron.
2. Grade: N38
3.Coating:Ni
4.Application: Sensors, Motors, Rotors, Wind turbines/wind generators, Loudspeakers, Magnetic hooks & holder, Filters, Automobiles, etc.
Delivery
All available shipping ways could be applied, by courier, by air or by sea.
Appointed shipping company or our own forwarders all could be used in shipment.
Full-way tracking the cargos for you before the goods arrive.
Buyer's Guide
In order to quote you the best price quickly, please provide the following information:
1.Product size,grade,coating,etc.
2.Order quantity;
3.Attached the drawings if customized
4.Any special packing or other requirements
Our advantage
1. Fast reply: all your enquiry will be replied within 24 hours;
2. Reasonable price: we are direct manufacturer and able to offer better price;
3. Good quality: we are experienced in quality control;
4. Fast delivery time:7-20 days