Principal function of TDXZ series Bin Discharger
TDXZ series Bin Discharger is a new discharging device, fixed at the bottom of small particle and fine powder storage bins. To break the blacking of small particles and fine powder by effect of higher-mode vibration and then discharge the material from exit well-distributed. It widely uses in storage bins of mills of grain processing, feed, cement and medicine production industry.
Bin Discharger Features:
Simple construction, working performance reliable
Strong arch-destroying, smooth operation.
Low noise, low energy consumption and the output is adjustable
BinDischarger can make all kinds of particles, powder material evenly, continuously and accurately discharge.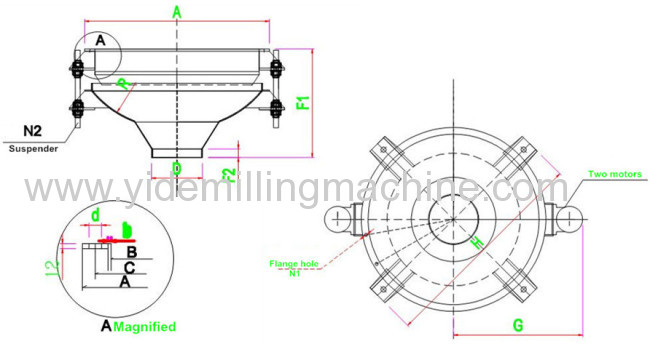 Bin Discharger Main parameter of TDXZ series Bin Discharger:

Specification

D

A

B

C

d

F1

F2

N1

N2

Power

(KW)

Mortor
(pc)

b

Exciting force(Kn)

TDXZ50

200

590

460

530

20

510

50

12

3

0.15

1

5

4

TDXZ80

300

890

760

830

20

590

50

12

3

0.15

1

5

4

TDXZ100

300

1090

958

1030

20

540

50

12

3

0.25

1

6

4

TDXZ130

500

1390

1258

1330

20

561

50

20

4

0.25

1

6

5

TDXZ160

500

1690

1558

1630

20

712

50

24

6

0.4

1

6

8

TDXZ180

500

1890

1758

1830

20

850

50

24

6

0.4

1

6

8

TDXZ200

500

2090

1958

2030

20

1007

50

32

8

0.45

1

6

11

TDXZ250

500

2590

2458

2530

20

1273

50

36

12

0.4*2

2

6

16