API Standard Mud tank for Drilling Rig
Introduction
Suitable for drilling under the temperature -45℃~45℃
KINGWELL Mud Tank designed and manufactured by our company is devided into Square tank and Cone-shaped tank according to the shape of tank bottom. The body of the tank is made of welding the steel plate and section, using the flat cone-shape structure or the corrugated structure. The mud tank surface and the passage are made of the slipping resistant steel plate and linearity netted steel plate which is produced by the professional factory, the mud tanks are made of the side steel pipe, all of the structure can be folded without barrier and pegged reliably. The surface of tank is equipped with water pipeline for cleaning the surface and equipment on the mud tank, we use soaked zinc processing for the netted steel plate. The ladder is made of the channel steel to take responsibility the body, the foot board is made of the linearity netted steel plate. The two-sided guard rail are installed the safe suspension hook. The mud tank is designed the standard shanty to prevent the sand and the rain. The pipeline is installed in the tank to preserve the warm air heat.
Mud tanks




System effective volume(not including trip tank: 180m3; The solid control system

adopt shaker,degasser,mud cleaner,centrfuge, 4 stages mud cleaning equipments ;

Main equipments are domestic famous-brand products which are in good quality and

with long life and beautiful appearance, can meet the requirement of drilling fluid ciruclation,filling up,weighting up and to satify the technological requirement of

trouble removal in particular cases and drilling for 4000m. Liquid gas separator with ignition device.

Shaker Tank




Tank dimension: 14000×3060×2700mm

Suction Tank




Tank dimension: 14000×3060×2700mm

Mixing Tank




Tank dimension: 14000×3060×2700mm

Reserve tank




Tank dimension: 14000×3060×2700mm
Pictures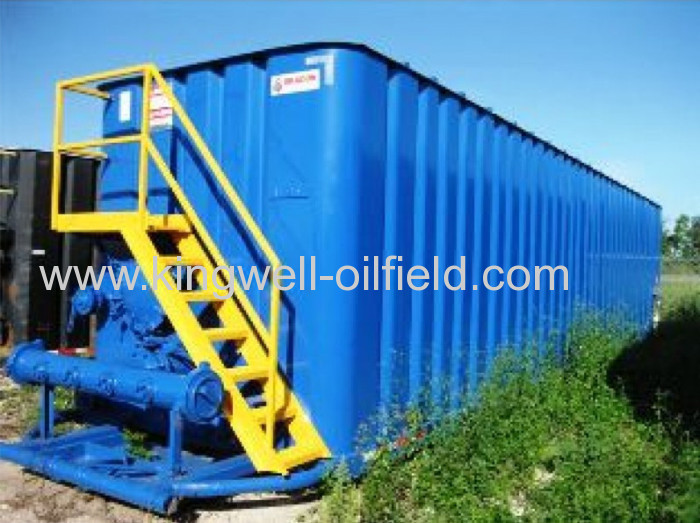 About KINGWELL
Xi'an Kingwell Oilfield Machinery Co.,Ltd is a highly reputable supplier for oilfield equipment and services to Oil & Gas industries and provide complete solutions.


With over 10 years developing, we were developed from the beginning drilling service to manufacture factory who produce OCTG, DST tools and Solid Control products.
KINGWELL have experienced team, stronger enough to meet any challenge, we do believe honest is the base of business and cooperation, our aim is to build solid relationship with any part of honest. kingwell can provide highly efficient services to its clients resulting in accurate and timely deliveries at the best prices.


Certificates:



Contact:
1. Our working time: 8:00am~22:00pm (if urgent, please call our director: jerry, Mobile: +86-18729329559)
2. All the inquiries will be replied within 24hours, so please feel to send us your inquiry.
3. When our skyper is off line, please feel free to leave a message, and tell us the products you need, our model number, and your E-mail address.
When ordering or requesting quotation, if size other than above specifications, please specify clearly! Please feel free to contact us for more details and more products.