1.Applicable to a large number of baked products,the capacity inside is based on the size of the product,the special design and manufacture.
2 Temperature range:room temperature add10℃~1200℃
3.Temperature controlling system:digital setting, digital display, PID automatic calculation with SCR control or programmable controller.
4.Used material:The inner used furnace pan assembly. Middle used high temperature ceramic fiber insulate the heat. The outer used medium carbon steel, and used high temperature resistant paint manufacturing.
5.Heating method: used 3line, 4face, 5face, depend on the need to manufacture.
6.Heating element: Used A-1 heating element imported from Sweden.
7.Door: open front door, can add the view window.(can choose.)
8. use: suitable for high temperature ash, heat treatment and chemical analysis.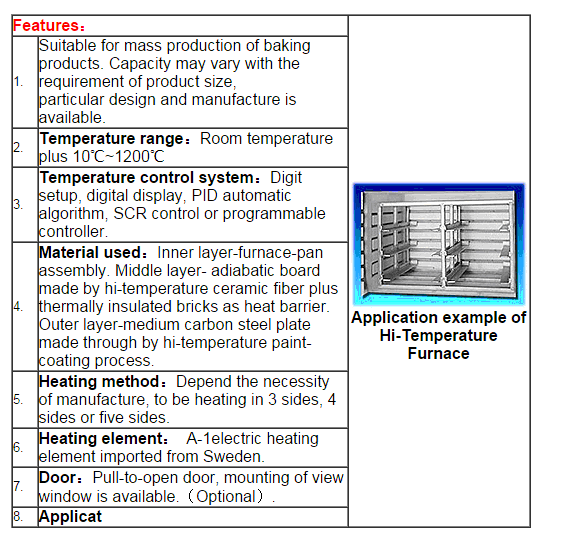 Shipping
(1) By sea; (2) By air; (3) By expressage.(DHL,FEDEX,UPS,TNT etc.)
Custom packaging:We also packing acording to customers' requirement.
We can make the prouducts according to your requirement , no matter what country are you from.
Contact information:
Company: Dongguan City jinyao precision equipment Co.,ltd
Address: Jingfu Road No 36, xiabian village, changan town , Dongguan City, Guangdong Province
Tel:86-769-85422549
Fax:86-769-85424793
Website:http://www.jinyaodrying.com
The image of company: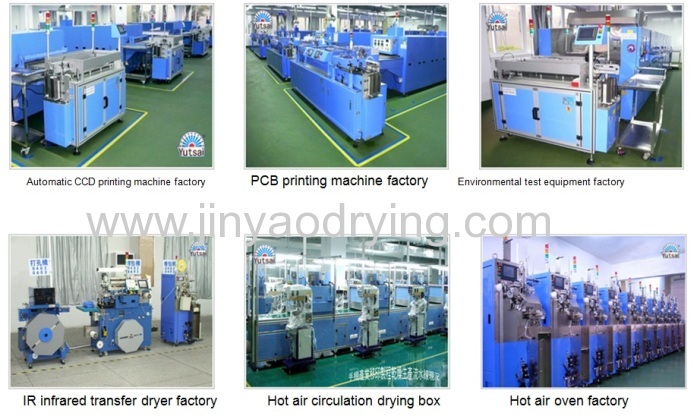 Our products: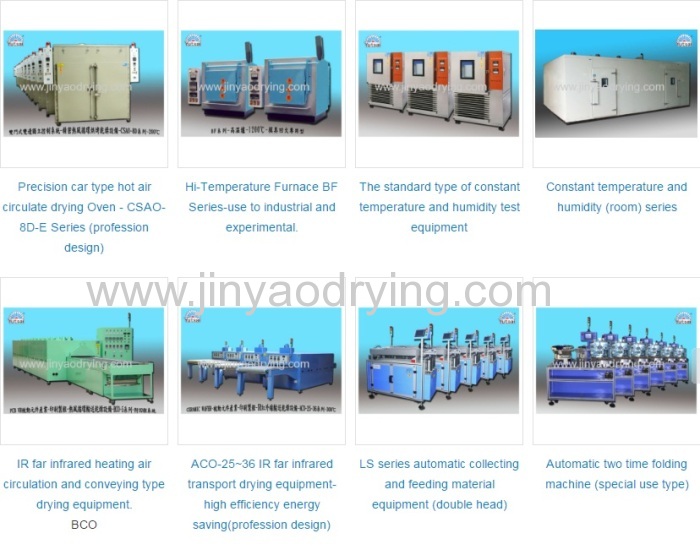 Our company already has 30 years experience to empolder and produce. Our always keep these spirit: innovation; customer first; constantly strive for perfection; and good service.
Our product widely used in electronic product, resistance material, automatic produce industry and press production, which is widely used to dry and bake some industry materials.
Features:
Reasonable design
High-efficiency
Low consumption, energy saving
Easy to maintain
Easy to operate
service we can supply:
SUPPORT
We can not only provide the good machines, but also wholeheartedly provide the comprehensive for our clients. The series of professional technology service will make you have an excellent product experience.
After-sales service support
After we signed the purchase contract and have a certain reputation guarantee, we will contact the professional group that responsible for ship bookings, commodity inspection, commercial invoices, packing list, insurance policy and so on, in order to provide you the perfect goods trading services, until the product you purchased properly to your hands.
Technological support
Yutsai has been largely adopting new technologies, new techniques and high-tech equipments. And Yutsai also has strict and effective quality control system.
About Us
Dongguan city Jinyao precision Equipment co., LTD is one of Enterprise combining develop, produce and sale. Established in 1980, already have 30 years experience to produce: precision Hot-air drying oven; IR/UV deliver drying equipment; environmental test equipment; printing machine; automation industrial equipment etc.
Our company always keep the aims that provide high quality product; quick service attitude and the great design. We keep the company spirit that has advance technology and high quality team. Our product receive a lot of client trust, and stand firmly front of others.
Dong Guan YUTSAI precision device enterprise LTD. is registered capital achieve ten million RMB. It has 4800 square meters factory. More than three million RMB fixed assets. Value of output achieve 24million RMB each year.
We has the steady domestic clients such as: FOXCONN, HuohYow, FU BROTHRT industrial company, HUAXIN technology company, PUYAO group etc. It's all about more than 500 company include Domestic ,foreign and military enterprises. We also has the long-term relationship with Thailand, India and England.
The company toward higher, farther, more perfect operating system. the Taiwan Head Company as the axis, and we make efforts in mainland market development.
Our company sticks to a "Human Oriented" management pattern and attaches importance to the selection and cultivation of qualified employees. Every year, periodic or aperiodic professional trainings held at home and abroad make sure the employees have grasped the latest technology and skills. Outstanding expertise and employee quality guarantees high-quality products.What's more, good after-sale services and technical support eradicate your fear of trouble in the future when purchasing or using our products. Company has won ISO9001:2008 certification.
Quality is our fundamental, credibility is our aim, customer satisfaction is our eternal pursuit. Welcome to visit, discussions and suggestions as well as inquiries from the new and old customers. Wish to establish a long-term partnership and friendship with clients all over the world
DRYING OVENS
Drying ovens are used across a range of industries and research laboratories for simple applications, such as drying and sterilizing glassware, to complex processes that require controlled heating and temperature uniformity such as bonding and curing.
Drying ovens may be designed for batch processing or with a conveyor for continuous processing. Yutsai Industries builds high performance drying ovens of multiple sizes, processing requirements and temperature capabilities to meet and exceed clients' laboratory and production applications.
All drying ovens feature programmable controls and stainless steel interiors to prevent corrosion.
When selecting the right drying oven, critical factors to consider are the heat-up, soak and cool-down times required within your application.
Heat-up rates
A drying oven should have the capability to heat the part or material to the desired temperature within a specific time. Even if the oven's heating capability is sufficient, there are other factors that are just as important:
· Thermal conductivity of the material
· Size and shape of the material
· Velocity and direction that the convected air impacts the material's surface
Soak Times
Soak time is the amount of time that the material requires once it reaches the desired temperature for the desired length of time. For applications that require precise temperature controls, Yutsai Industries offers drying ovens with programmable controls that do not start timing the soak cycle until a set point temperature, either within the product or within the oven chamber, has been reached.
Cool-down Times
Cool down is achieved when the heated air is exhausted out from the drying oven, replaced by cooler, ambient air. Programmable controls can also modulate the oven temperature to ensure that a controlled cooling rate is maintained, depending on the application requirements.