Naturewater new style cabinet water softner machine
Pure water softener machine with automatic control valve
Brand name: Naturewater / Keman
Automatic water softener
Model:KM-SFOT-F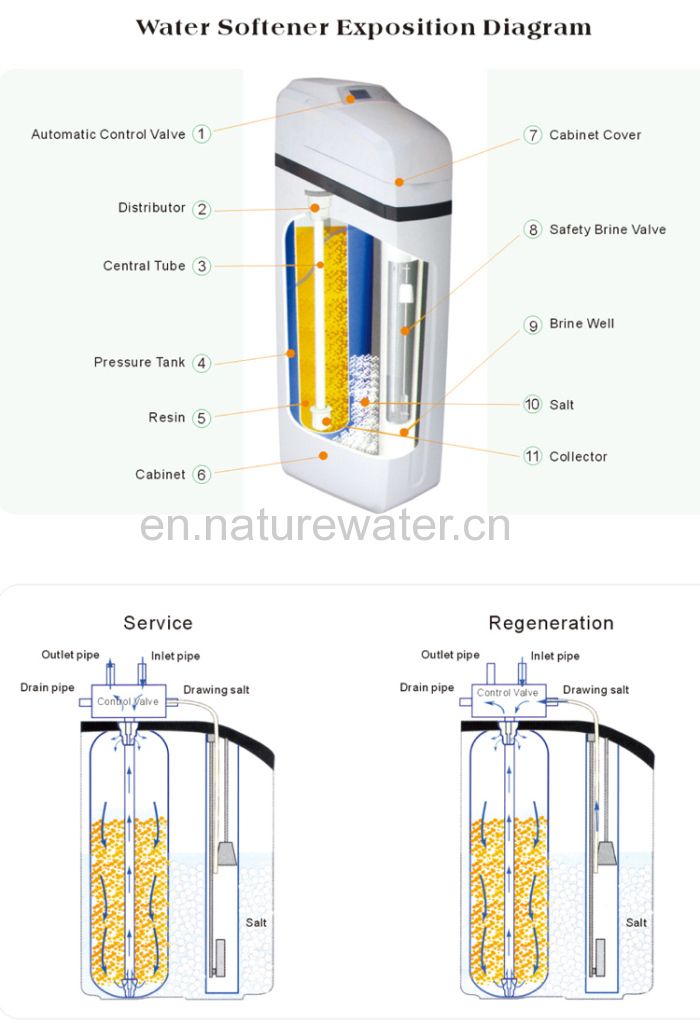 Water softener function character :
Naturewater / Keman softener adopts high-tech ionic exchage soften techique to remove calcium ions and magnesium ions in the water and supply high quality soft water for your living .
Extended service life of household appliance , such as water heater , boiler ,shower , faucets and pipes .
Cleaner , softer colthes and towels .
Keeping hai smooth and skin delicate .
To use less shampoo and soap while washing and shower .
More luxurious , foaming baths .
Keeping clear fineness tableware and sanitary hardware clearer , taste and odor-free ice cubes .
Valve Type: Electronic Softener Valve
Regeneration Mode: Timer / Timer Meter Mix
Resin Volume: 30L Purolite Resin
Brine Well Size: 31'' / Cabinet can loading 50KG salts
Resin Tank: 1324
Flow Rate: ≤2.5T/H
Working Pressure: 0.15-0.5 Mpa
Power Supply: 220V 50Hz
Inlet/Outlet Size: 1"
Drain Size: Φ12mm
Central Tube Size: 35"
Brine Valve: Yes
Weight(without salt): ≤30KG
Cabinet Size(W*D*H): 500X370X830
Packing Size(W*D*H): 520X390X850
Container Capacity(20'GP/40'GP): 150CTNS/290CTNS
Yuyao Yadong Plastic Co., Ltd (Yuyao Keman enviromental technology CO.,LTD ) in China ( Naturewater / Keman two brand ) , That is actively involved in investment ,development , manufacture ,
and sale ranges of water treatment products . For examples the RO system / water filter / water softener machine /Parts etc ......