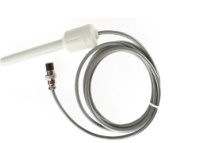 We are seeking global co-operation agents for our products.
Anorectal Physical Therapy Device Probe
1.Function
Integrated with anal dilatation, thermotherapy, magnetotherapy, massotherapy, it can adjust autonomic nerve securely and reliably, has no trauma or pain, and can be used to dilate anus, arrest bleeding, diminish inflammation, lessen swelling, and ease pain, etc. It is applicable to internal, external and mixed
hemorrhoids, rectitis; prolapsus, constipation, difficult defecation and ache caused by anal sinusitis.
2.Indication
Apply to the adjuvant treatment of pain, pruritus , eczema , edema, bleeding, fall-swell caused by internal/external hemorrhoid and mixed hemorrhoid, proctitis, anal sinusitis disease.
3.Contraindication
Patients with Malignant tumor, blood diseases, serious heart disease, hypertension, liver disease, severediabetes, epilepsy and psychiatric disorders,crissum abscess, rectal prolapse, and pregnant women.
4.Working Principle
1).Thermotherapy:Adopt the far infrared heat ,it can promote blood circulation,activate blood and dissolve stasis.
2).Massotherapy:Push the crissum radial,the massage speed can be adjusted ,has good effect for dilating anus, adjust nerve and activate blood,dissolve stasis.
3).Magnetotherapy
a)Magnetic field can adjust crissum nerve and Meridian very well.
b) Co-use the magnetic field and medication,which is more beneficial for the permeation effect of the
pharmaceutical ions ,enhance its medication effectiveness.
we are seeking global co-operation agents for our products.