Model: SG-TDD20
TDD-COFDM is our new NLOS(non-line of sight) two-way data transmission system and wireless mobile emergency communication private network, which is independent of telecom operators wireless network. Its confidentiality, security, mobile performance that is better than Telecom operators. Also is a fully transparent data encryption transmission emergency security network.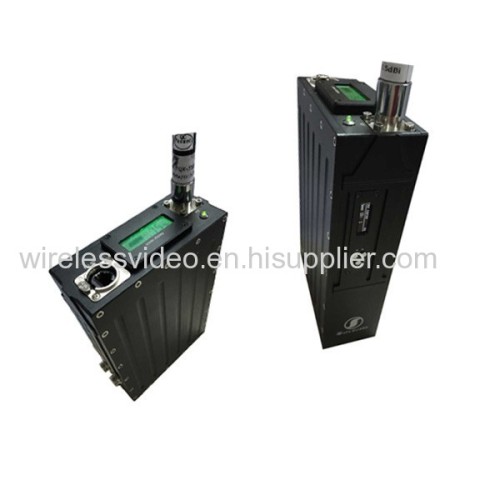 TDD-COFDM multiplexing technology to channel resources in time through time slot, frequency through a large number of sub carriers to flexibly allocated to multiple users, and in a single frequency to maximize the realization of multi user access. Channel into the AES128bit, and user manually customize key that strength to ensure the data encryption. System occupy relatively narrow-band air frequency(4/8MHz)and strong anti-multipath interference ability to overcome simulation technique and the high-speed mobile data transmission under multipath reflections and nuisance caused by occlusion, then achieved in a complex environment transfer: data packing form, audio and video data, serial asynchronous data, Miniature volume, precision design, lightweight and easy to carry that commonly used in short distance high speed wireless data transmission and on air long distance high speed wireless data transmission purposes.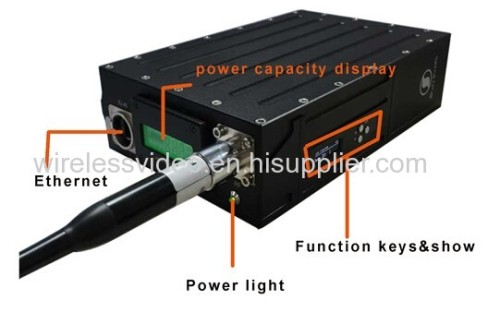 Main Features

+ Support protocol PTP &PMD network technology;
+ Support non-line of sight(NLOS) high speed mobile transmission
+ Bit rate can up to 921600bps;
+ AES 128-bit encryption, and also customer manually customize the secret key.
+ Standard RJ45 Ethernet and RS485/RS485/RS422 data interfaces;
+ Built in with small LCD screen that shows the signal working status.
+ Available frequency: 330-430MHz/ 430-530MHz, or 2.4GHz (option).




Product Parameters


Physical interface section
Ethernet
Standard RJ-45
RS-232/422/485 data
Two or Three pin terminals
Power supply
DC12V, Four pin terminals
RF connector
SMA female
Main parameters:
Modulation
TDD_COFDM, time division duplex mode
Working mode
Full duplex
Working frequency
330-430MHz/ 430-530MHz,or 2.4GHz (option). step in 1MHz
other frequencies can be customized
RF power
20W
RF bandwidth
4/8MHz
Correction mechanism
32bit of CRC, ARQ
Transfer Protocol
standard TCP / IP, transparent transmission,serial asynchronous
Data Rate
6.5Mbps ( both video and data occupy the same channel)
Baud rate
7200 ~ 921600bps (automatically assigned)
Data type
10 / 100Bate-T Ethernet, RS-232, RS-422, RS-485 standard
Audio channel
analog audio intercom interface (non-Open)
BER
≤10-6
Receiving sensitivity
-103dBm
Networking format
point-to-multipoint
Encryption
128bit AES (Optional 256bit AES)
Ethernet
10 / 100BaseT, Auto-MDI / X, IEEE802.3
TCP, UDP, TCP / IP, TFTP, ARP, ICMP, DHCP, HTTP, SNMP, FTP, DNS
Parameter Control
adjustable parameters through the LCD panel
Built-in battery
12000mA or remove
Working time
6 hours
Working temperature
-40 ℃ ~ 85 ℃
Dimension
210 * 133 * 54mm
Weight
2.5kg






About our specification:
1. Advancement: TDD-COFDM channel modulation technology, support fast-moving, ultra-wide band, and fully transparent transmission.
2. Security: private network, private communication transport protocol, sole synchronization code and AES encryption.
3. Flexibility: transparent transmission of IP data channel, supports multi-user access.
4. Scalability: all-digital network, is compatible with all IP data transmission equipment.
5. Technical performance:
- Multi-frequency network base stations, single base station same frequency network, the same frequency network with bidirectional communication, high spectrum efficiency;
- Flexible allocation of channel resources to achieve PTP, PTMT and multipoint-to-multipoint two-way communication;
- Multiple channel bandwidth and a variety of modulation mode function;
- Flexible TDD slot allocation model to meet a single-frequency but multi-user access, not only save the spectrum but also to reduce power consumption;
- Spectrum sensing, perception slot, upstream bandwidth sensing function;
- Strong diffraction ability and anti-multipath capability
- High-sensitivity receiver. When receive level is -110dBm, can still ensure BER<10E-5 and frame error rate <1%. Powerful error correction capability;
- Low PAPR, high power amplifier efficiency, low power consumption;
- Can transmit video audio and etc signals synchronous,high speed.Velocity >600km/h.
- Digital signal processing, a strong system of confidentiality, stability and reliability.





Product Application

As its Miniature volume, precision design, lightweight and easy to carry, suitable used in short distance and long range air high speed wireless video data transmission purposes. Such as UAV, rotorcraft, micro UAV, drone,UGV, unmanned powered parachute, unmanned underwater vehicles boats, Fire-fighting robot,unmanned ship, airship, USV, high iron, EMU, unmanned vehicles, unmanned vehicle and etc..data transmission.





Our Services
One year free warranty;
Three months for free spare parts (Replacement parts will be charged after a year);
24-h technical guidance;
One-stop ODM/OEM solution;
We provide professional system design and construction;
We have over 15 years experience's study, design and manufacturing in wireless microwave transmission area;
We are the professional plant source,so we can provide you high quality in best price.