IKV Paint Robot Introduction
Paint robot is also called spray painting robot, which can conduct automatic painting or paint other coating. It is usually driven by hydraulic. It has quick action speed, good anti-explosion performance. Automatic paint robot is widely applied in the field of automotive, gauge, electrical, enamel, etc.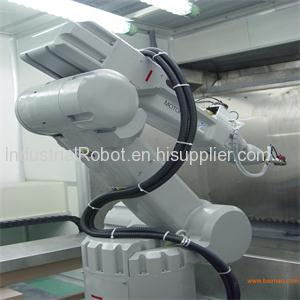 Company Profile
Nanchang IKV Robot Co., Ltd is a high and new technology enterprise, which integrates product research, manufacturing and distribution by virtue of Germany advanced technique. It specializes in the research and production of industrial robot, automatic production line, industrial control system project, etc. It supplies automatic solution in the filed of automobile, food, beverage, pharmaceuticals, chemical, fertilizer, steel, etc. All in all, it assists the clients to build smart factory and easily master Industry 4.0.
The Benefits of IKV Paint Robot
1. The painting is precise, the normal run time is long, the paint consumption is less. It runs 24 hours and has higher reliability.
2. The painting speed is quick and even. The user can automatically adjust the painting height, direction, angle position based on parts. The painting control is flexible. Omnidirectional painting can be achieved.
3. It is anti-explosion, and environment-friendly. It has higher safety, and the operation control is easier to learn.
4. IKV painting robot can paint 2 or 5 kinds of product simultaneously.
5. IKV painting robot has long service life and easier maintenance.
Application Filed of IKV Paint Robot
IKV automated panting robot system can meet various kinds of painting requirement. It has been applied in both plastic part and metal parts of automotive industry, recycling industry, wood industry, agriculture device, household appliances, consumer electronics, aerospace, optical field.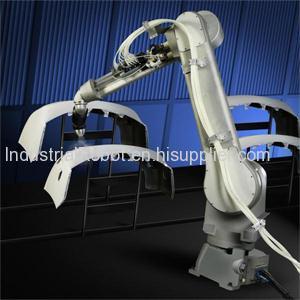 Our Services
1. Installation Services: In the period of installation and debugging, we shall offer training about effective operation and maintenance.
2. Technical Services: We can assist our clients to solve all kind of technical problems with our capable technical team, and we own adequate experience for production line transformation project.
3. Warranty Services: We offer free after sale service except the engineers' traveling expense for any quality problem occurs during our 12 months warranty period.
IKV Technical Team
Nanchang IKV Robot Co., Ltd has professional and experienced technical team. We self-develop high precision loss in weight feeder, heavy load LGV, IKV Industry 4.0 communication card, etc.
FAQ
Q: What is your MOQ;
A: At present, our MOQ is 1 set;
Q: How long is the delivery time?
A: In general, the delivery time is 12 weeks.
Q: What is your guarantee term?
A: The warranty period for our products is one year along with lift time technical support.