PET Bottle Flakes Crushing Recycling and Washing Line
waste pet bottle crushing washing drying recycling line
Features:
1. Final products has good quality. When process PET bottle, final products humidity below 1%, impurities 100ppm,PVC label content 100ppm . The whole line capacity between 300kg/h-3000kg/hour.
2. Parts which contact PET materials use SUS304 stainless steel, thickness more than 3mm, ensure long time service.
3. World famous brand components applied on the production line- e.g. SKF bearing, Siemens contactor, Omron temperature controller, FUJI invertor, Siemens PLC controller, etc.
4. The whole production line with CE certification, ISO9001 certification.
working flow:
PET bottle recycling washing line(1000kg/h):
Belt conveyor→Mechanical label remover→ manual separating table→metal detector→belt conveyor→Crusher→Screw conveyor→floating washer→screw conveyor→Hot washer→screw conveyor→high speed friction machine→screw conveyor→floation washer→screw conveyor→dewatering machine→drying system→zig zag air classify system→storage hopper→control cabinet
reference pics: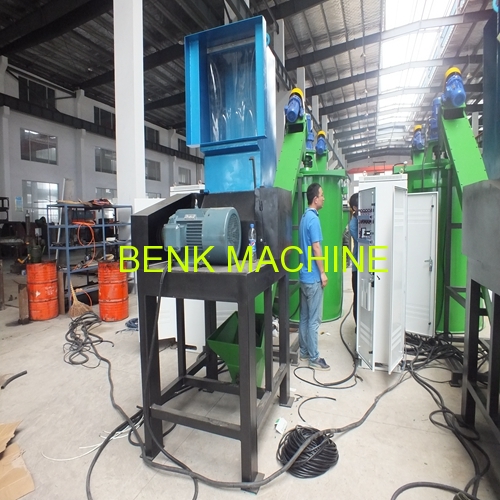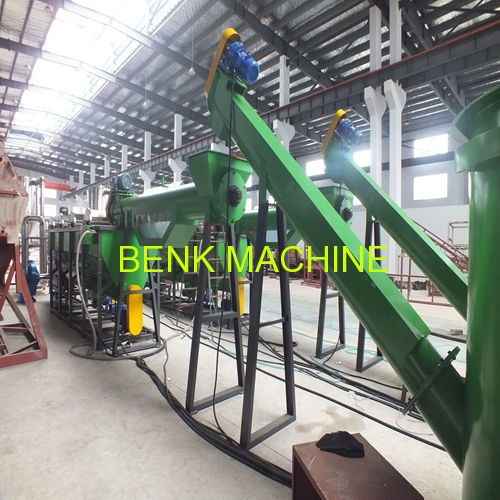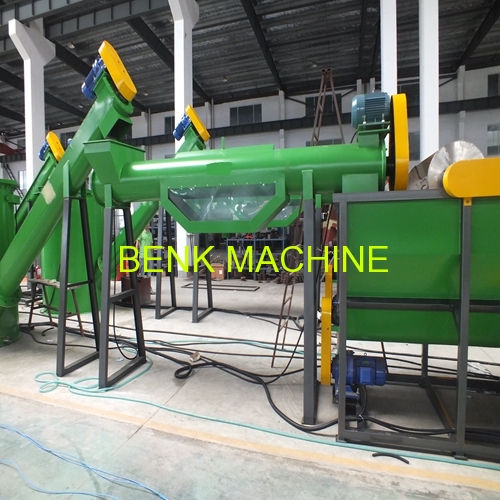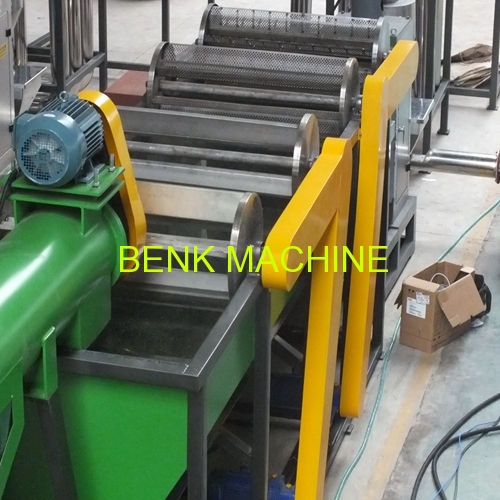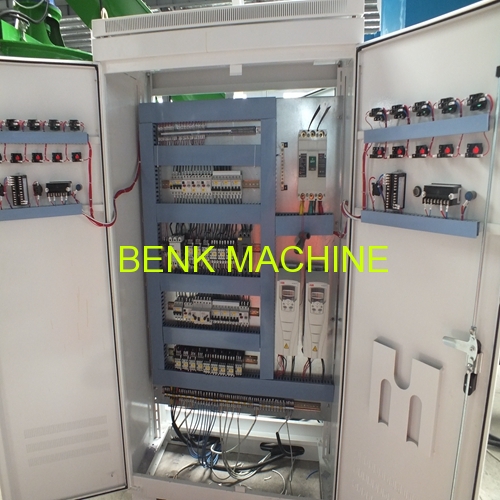 Waste plastic pet bottle washing recycling machine main components(1000kg/h):

Name:

Power:

Belt conveyor

2.2kw

Mechenical label remover

22kw

Manual separating table

2.2kw

Metal detector

0.4kw

Belt conveyor

2.2kw

Crusher

55kw

Screw conveyor

1.5kw

Floating washer

2.2kw+2.2kw

Screw conveyor

3kw

Hot washer

36kw+7.5kw

Screw conveyor

3kw

High speed frication machine

30kw

Screw conveyor

3kw

Floating washer

2.2kw+2.2kw

Screw conveyor

3kw

Vertical dewatering machine

18.5kw

Drying system

36kw+11kw

Zig Zag air classification system

11kw+4kw

Storage hopper




Control cabinet



3, BENK's Service:

3.1 Technical documents
All the symbols on the equipments should be in English. Seller is responsible to provide general layout plan, electric plan, installation direction, and manual book in English to Buyer on time.
3.2. Arrangement for inspection, installation and testing work
a. After all machines are delivered to customer's factory; Buyer is responsible for all preparation work, e.g. electricity supply, water supply, labors and cranes, etc.
b. BENK will prepare for visa application for their engineers, who are responsible for guide of machine installation and testing at the Buyer's factory.
c. The Buyer will buy the round-trip air ticket for Engineer if visa application is approved. The buyer is also responsible to bear expenses generated, e.g. visa formalities, meals, accommodation and allowance of USD80 per day for each engineer.
d. Engineer will give free training lessons to labors in buyer's factory.
e. If buyer doesn't request installation and commissioning by Seller's engineer in 4 months since date of bill of lading, which to be accounted all the machines has been successfully tested by buyer.
3.3. Quantity and quality guarantee
a. Quantity/Quality Discrepancy to destination port during transportation:
In case of quality/quantity discrepancy to destination port in transportation, customer should file claim within 30 days after the arrival of the goods at port of destination. Insurance company and shipping company will be responsible for any discrepancy of the goods caused by shipping company and other transportation organization and/or post office.
b. Guarantee period and after-sales services: 13 months since date of bill of loading
During this guarantee period, BENK will provide spare parts without any charge in case of quality discrepancy caused by us. If the malfunctions are caused by your incorrect operations, BENK will provide the buyer spare parts at cost price.
c. Long-term service:
BENK will charge the buyer cost price of spare parts beyond one year and provide long-term technical guide.
We thank you for your inquiry and would be pleased to receive your order soon.
ZHANGJIAGANG CITY BENK MACHINERY CO., LTD.