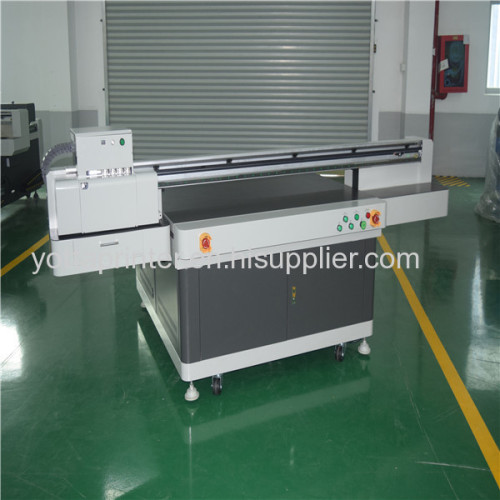 Product Description
YD1510-RA UV flatbed printer adopts the original imported Ricoh Gen4 industrial printhead,our machine quality is a leader in this field,the print size is 1500*1000mm,moreover,it can print all kinds of flat items,including wood,glass,metal sheet,slate,paper,acrylic,fabric,building materials and so on.YD1510-RA UV flatbed printer has a clear printing effect and can achieve the expansion and upgrading of different configurations according to the needs of users, improving the cost of the machine.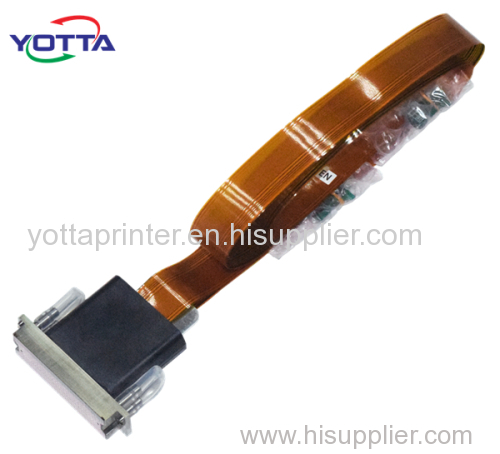 Application
Advertising industry:pvc board,KT board,metal sheet,signboard,advertising sticker and so on.
Decoration:handicrafts,Jade,clothing,decorative Painting,carving printing,personalized furnishing and so on.
Leading advantages
1.Adopting new 3-8 grey level G4(Ricoh) all stainless steel internal heating industrial micro piezo print head,the ignition frequency is 30KHz,variable ink droplet printing (7pl-35pl),can easily print high resolution images of 600*1200 dpi. Ricoh G4 print head is anti-corrosive and long lifetime, working performance is stable, what's more, it is cost effective and suitable for long-time working,24 hours running. If maintain in good condition, the life time of print head can reach about 5 years!
2.Automatic anti-collision function:The carriage can stop working automatically when collides with the media, that can protect the carriage and print head.
3.Emergency back-up power supply, when the power is turned off suddenly, the printer can still maintain the normal operation of negative pressure system, and it will be engaged in work quickly once the power is turned on. The 24 hours*7 days production can be achieved.
4.The cartridge constant temperature system,keep the ink viscosity be consistent with different environment temperature.
5.Automatic measure the thickness of media,which eliminate the procedure that we measure thickness by ourselves.Ensuring the correct print height,What's more, it saves our time and improves our work efficiency.
6.The stable negative pressure system can ensures the printer to supply ink smoothly in the production process, It also achieves long time ink supply.
7.You can choose unidirectional and bidirectional print mode according to the demands of production.
8.YD1510-RA UV flatbed printer adopts Ricoh G4 print head can print UV white ink or UV transparent varnish ,so that can meet customers'needs of 3D,embossed,highlight effect and other special effect.
9.Professional channel control technology can achieve the control of each channel, providing the technical assurance.
10. Providing strong,comprehensive hardware testing and tuning function,for example:printhead rotating table, position calibration and voltage regulation for the printhead,bidirectional printing calibration, step calibration.
11.The frame of work table adopts square tube welding tempering heat treatment, processing the whole side and upper surface, the guide rail Y axis and ball screw were installed in the frame side, reducing the size of the equipment,with the whole process for the installation surface of the suction platform, to ensure the accuracy of the platform, and doing the aging treatment(Under the natural condition for 30 days, until the steel structure deformed naturally,then finish machining). So that can ensure that the platform and frame will not deformed for a long time, Prolong the service life and precision of the equipment.
Printing Samples
Phone case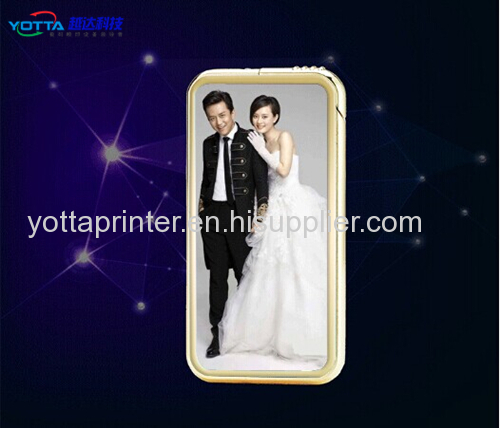 Metal sheet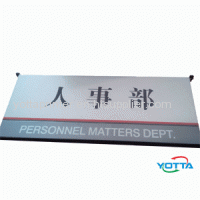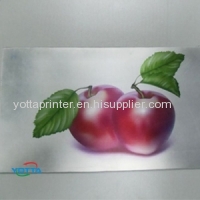 Wooden photos
Leather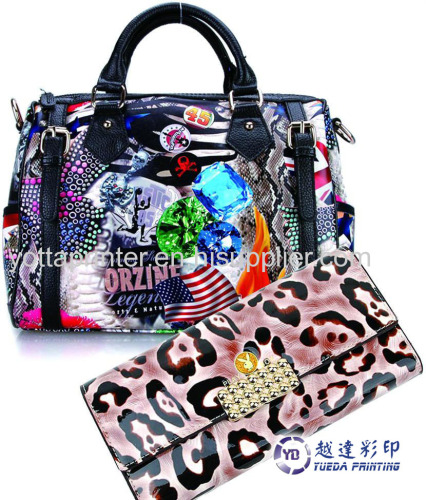 After-sales service:
1. One year quality warranty,if some parts of the machine damaged of course not by person on purpose we could provide one to you for free.
2. We have aftersale service department, engineers are meant to solve all the problems for customers, either through skype/msn,phone,email or go to customer's factory for free
3. Lifelong time problems inquiring regarding the machines we could help you out any time you contact us.
FAQ:
1. About us?
We are one of the true manufacturer, located at Shenzhen. About 2 minutes to Jixiang subway station.
2. About the price and quality?
We can not say we are the best supplier, but we are honesty for our quality and price. Good quality is our first rule, and good service is our mission. We produce machines as 5S management rules, and ISO standard.
3. Why do you choose our factory?
We produce flatbed printing machine, digital flatbed printer is a new product in printing industry, it can print on the surface forvarious kinds of flat objects directly, such as crystal, leather, glass, metal, ceramic tile, PVC, PP, PE and so on. Any pictures can be printed on the surface of the subjects by the printer with
highresolution ,it is the fastest flatbed printer on the current market.And we will keepyou with a best service,give us a chance, also give your a chance to know this field if you really want to know this printer.
4. What is the printer operation?
a. Through a digital camera or scanner to get File sources of pictures.
b. Through the computer images to typesetting modified document layout.
c. Through the universal printer output files to print.
d. Print objects requirements.