Maanshan Durmapress Machinery Technology Co., Ltd >>>
Our company founded in 1990s is a fixed-point company of Ministry of Construction of China, we are engaging in construction machinery researching, development and manufacturing. Our main products are JZM series electric rolling drum concrete mixers, JS Series Double shaft concrete
mixer,JZR series diesel engine concrete mixers, PLD series aggregate batching and dispensing machines, LSY series cement screw conveyors and HZS/HLS series concrete mixing and batching plant. All these products have won great favor and popularity with more and more customers in
domestic and oversea markets.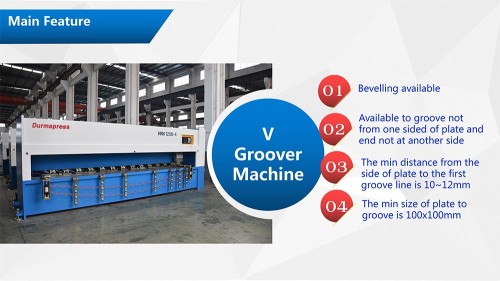 Product Features
Advantages: conventional machine is clamps hold the sheet metal moving over the working table, so the sheet surface is very easy to be scratched. Now this machine's biggest advantage is sheet metal fixed, has no relative motion. the work piece is protected perfectly, especially for use in mirror stainless steel plates on decoration, and so that the machine has a high processing speed.
1, hydraulic v grooving machine
Frame structure with the overall table, mobile gantry beam also welded frame structure, the implementation of the overall welding, tempering after welding the whole, all to ensure the overall good rigidity, have to ensure that the future use is not deformed.
2, work: Overall table frame fixed and mobile gantry beam for cutting slotting, grooving speed frequency control, smooth and efficient cutting process, the cutting surface quality is good.
3, numerical control systems, slot machine adopts PLC + touch screen CNC system
A color touch screen controller adopts special software, Chinese / English operation menu, simple and straightforward. Manual, automatic two working modes to choose from, fully meet the various processing requirements. Man-machine dialogue interface, easy to learn and operate, convenient processing size input, process real-time display, error alarm will automatically
4, transmission parts
Machine is 4 axes control, the X-axis, Y1 axis, Y2 axis, Z axis. high positioning accuracy, where Y1, Y2 through the PLC synchronization system, guaranteed to always synchronized. X-axis is with inverter controlled AC gear motor. HIWIN brand high precision ball screw, helical rack and pinion driven sound small and precision.
5, press apparatus
Alone the working table, there is hydraulic clamps. According to different material or thickness, clamping force can be adjusted.
6, efficient: 1), the machine uses three alloy knife while processing methods, thus cutting is more evenly, work piece deformation will be reduced, tool life will be longer, production costs cost will be lower.
2), according to different processing job, speed can be selected.
3), with use of square alloy blades, four cutting edges can be used, replacement convenient, greatly reducing tool change time, both to ensure the accuracy
Sheet is fixed on worktable by clamps,so no sctatch on sheet surface and high processing speed
1. HYRAULIC V GROOVING MACHINE
manker sure high strength and high rigidity without deformation.

2. WORKING MODE
The whole table frame is immobilized, just gantry blade adapter movew to slot with ariable frequency speed,effective slotting process,and high-quality surface.

3. CNC CONTROL SYSTEM:PLS&TOUCHING SCREEN
Colorful touch screen,special sofrware, convenient processing dimension input,processing instantly displaying and error automatic alarming.

4. TRANSMISSION PARTS
X,Y1,Y2and Z4 axis control,high positing accuracy,Y1 and Y2 synvhronized by
PLC.X axle driven by inverter and HIWIN brand ball screw,low noise and high accuracy.

5. CLAMPING DEVICE
With adjustable hydraulic system,Side clamping unit and top following pressing device make sure enough pressure to hold various thickness sheet.

6. HIGH EFFICIENCE
(1)Three alloy blades simultaneous process at the same time ,which makes even cutting rate,less workpiece deformation,longer blades service life,and lower producting cosr.
(2)Adjustable working speed.
(3)Square blade can be used four times with conventent and prompt replacing
Main Device
| | |
| --- | --- |
| High precision ball screw | Taiwan TBI |
| Precision linear guide rail | Taiwan HIWIN |
| Angular contact ball bearings | NSK of Japan |
| Planing white steel blade | SECO of Sweden |
| Servo motor | Yaskawa of Japan |
| PLC | Yaskawa of Japan |
| Electrical components | Schneider of France |
| Power cable | IGUS of Germany |
| Pneumatic components | Taiwan AIRTAC |
Main parameters
| | |
| --- | --- |
| Name | 4Ax4000mm |
| Processing Width | 850-1500mm |
| Processing Length | 4000mm |
| Processing Thickness | 0.5-6mm |
| The back and front moving distance of beam | 850-1500mm |
| Moving speed of beam | 50-5000mm/min |
| The maximum left and right moving distance of carriage | 4300mm |
| The maximun moving speed of carriage | 50mm/min |
| Deviation of length | ±0.05mm |
| Location percision | ±0.05mm |
| The maximum travel of knife rest | 100mm |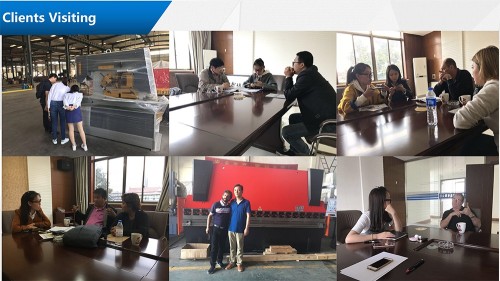 1.Q: Are you a factory or trading company?
A: We are manufacturer.which specialized in punching & shearing &bending machinery since it's established 20 years ago.
2.Q: How does your factory do regarding quality control?
A: Quality is the priority. We always attach great importance to quality controlling from beginning to the end. Our factory has gained CE, ISA,CQC certificate.
3.Q:Besides machines,can you provide tools of machines?
A:Yes.Both machines and tools can be provided in our factory.Our company has an independent spare-part departments.If you just only need tools of your machines,we can also provide you even if your machine is originally not from our factory.
Just tell us your needs and we can make a free design for you.
4.Q: what's your delivery time ?
A:It depends.If your ordering is standard and in stock,we can deliver immediately. If not,about 15-20 working days for machines and about 3-4 days for tools.
5.Q:What are the payment terms you accept?
A: We accept T/T, LC etc.