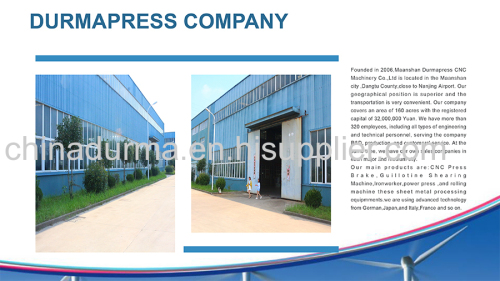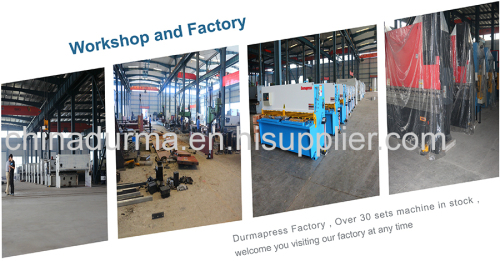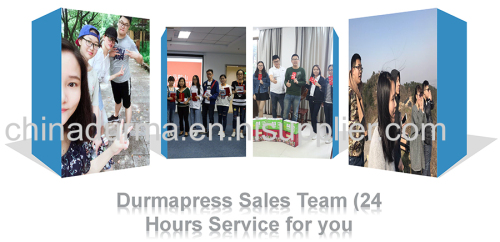 Maanshan Durmapress Machinery Technology Co., Ltd >>>
Our company founded in 1990s is a fixed-point company of Ministry of Construction of China, we are engaging in construction machinery researching, development and manufacturing. Our main products are JZM series electric rolling drum concrete mixers, JS Series Double shaft concrete
mixer,JZR series diesel engine concrete mixers, PLD series aggregate batching and dispensing machines, LSY series cement screw conveyors and HZS/HLS series concrete mixing and batching plant. All these products have won great favor and popularity with more and more customers in
domestic and oversea markets.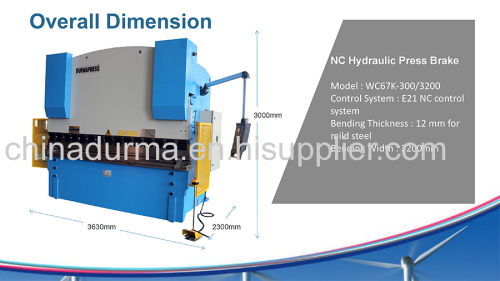 Main Features:
1.Totally EU streamlined design,Monoblock by welding robots & aparatus and stress relief process by Annealing treatment.
2.All ACCURL machines are designed using SOLID WORKS 3D programming and made with enhanced ST44-1 quality steel with the latest technology.
3. MB8 Series are among the highest rated machines which will help you increase your productivity and keep costs at minimum levelwith its user friendly CNC controller and low cost hydraulic maintenance.
4. High quality and repetitive bending is obtained by using synchronized cylinders and valves.

5. Automatic axis referencing and calibrating when machine is turned on.
6. Rigid upper beam runs on 8-point bearings with bending precision of 0.01 mm
7. Well-known top and bottom tool brands are long lasting stiffened and provide precise bending.Silent high pressure pump.
Standard Equipment:
1. 4- axis Delem DA52s programming mode CNC control
2. Full synchronisation of Y1 + Y2 axes with proportional hydraulic valve system and constant monitoring by CNC system to +/- 0.01mm accuracy
3. High precision linear scales for measurement of stroke depth mounted on side frames rather than top beam to prevent any distortion in accuracy as beam comes under load
4. CNC-controlled X & R-axis as standard ballscrew backgauge with servo drive motors.
5. Light guards
6. Two micrometric backgauge finger-stops with lateral adjustment

7. Steel mono-block construction
8. Polished chrome plated and ground cylinders
9. Long stroke and large open height dimensions
10. High approach and return speeds for production bending.
11. Euro style quick release top tool holders with intermediaries including wedges for crowning.
12. 88 degree sectionalised goose neck top tool
13. 4 way sectionalised multi vee bottom tool

14. Double footswitch control and pendant type control arm.

15. AKAS laser tooling guards

16. Electrically interlocked side guards

17. Electrically interlocked read access door

18. 2 sliding front support arms with linear guide rails for lateral adjustment and hand wheel for height adjustment, 1000mm long from centre of bottom tool vee.

19. Side guard is standard meeting CE regulations.
Delem DA66T CNC Press Brake Control system:
1. 2D graphical touch screen programming mode
2. 3D visualisation in simulation and production
3. 17" high resolution colour TFT
4. Full Windows application suite
5. Delem Modusys compatibility (module scalability and adaptivity)
6. USB, peripheral interfacing
7. User specific application support within the controllers multitasking environment
8. Sensor bending & correction interface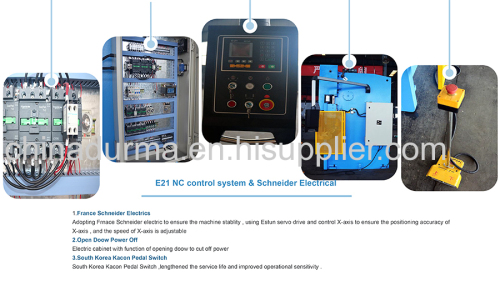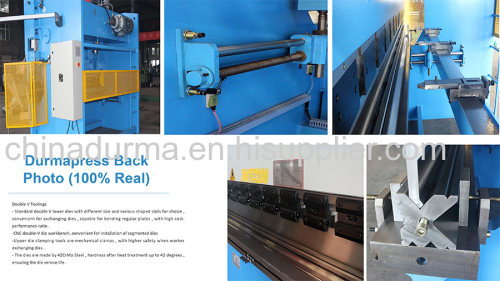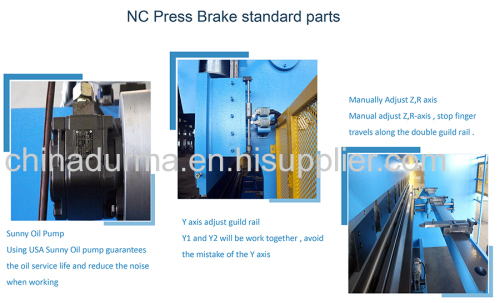 I Product descripton of the Press brake machine WC67Y-80/3200
Type: PSH-125/3200 (Y1-Y2-X-R-V)
Note: "V" means hydraulic deflection compensation.
II Main configuration of the Press brake machine WC67Y-80/3200
CYBELEC DNC600 CNC control system
Hoerbiger high-performance servo hydraulic system for controlling synchronization.
Grating rulers are equipped on both sides for checking and feedbacking synchronization
The back block is equipped with high-performance servo motor and ball bearing threaded rod
Hydraulic deflection compensation of lower working table is controlled by DNC system
Equipped with standard punch and die
Equipped with front supporting rack
III Main imported components of the Press brake machine WC67Y-80/3200
-- Control system: CYBELEC from Switzerland
-- Hydraulic system: Hoerbiger from Germany
-- Servo motor: Panasonic or Yaskawa from Japan
-- Grating ruler: GIVI from Italy / Austria
-- Joints for oil pipe: EMB from Germany or Parker from USA
-- Seals: Parker from USA
-- Beeline guide rail, ball bearing threaded rods and threaded nuts are from Taiwan
IV Spare parts enclosed with the High quality hydraulic press brake
| | | | |
| --- | --- | --- | --- |
| No. | Name | Quantity | Remarks |
| 1 | foot-hoof switch | One pc | |
| 2 | Front supporting rack | One set | |
| 3 | Foundation bolts | One set | |
| 4 | Flat washer | Four sets | |
| 5 | Spring washer | Four sets | |
| 6 | Nuts | Four sets | |
| 7 | mat plates | Four sets | |
| 8 | Grease gun | One set | |
| 9 | inner hexangular spanner | One set | |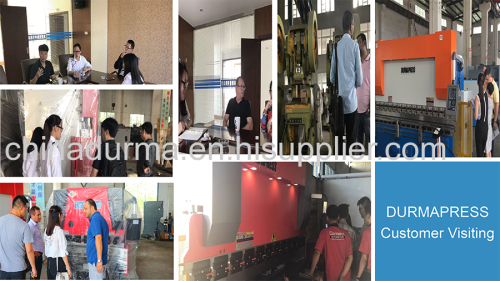 Our service

1. Standard Service:
Our factory provide the service for the customer forever, if the customer need operation help,
can contact us by MSN, Skype, Email and Telephone at any time, we provide 24 hours on-line service.
2. Installation:
Our factory can send our engineer to the customer's factory install, commission and training freely .The customer provide the double trip tickets, food and accommodation for our engineer. The customer also can send the engineer to our factory to learn the operation and maintains freely.
3. Quality Guarantee:
Our guarantee time is 14 months from B/L Date ,If any component is damaged during guarantee time,we can send the component to the customer By DHL,TNT freely.
4. Order Processing: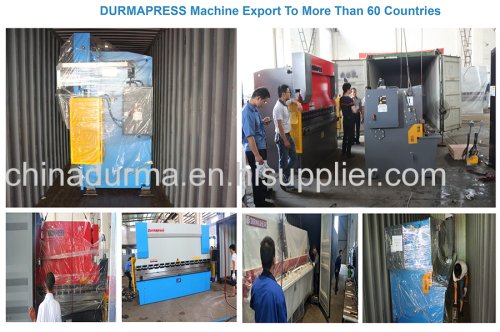 FAQ:

1.What are your main products?
Concrete Mixer(JZM Series,JZR Series,JZC Series,JS Series)
Concrete Batching Plant
Concrete Mixing Station
Batching Machine
Screw Conveyor
Cement Silo
2.What is your MOQ?
MOQ is 1set,anyway,special discounts will be given when ordering in large scale
3.What's your payment terms?
You can pay by T/T,L/C or others
4.What about your lead time for concrete mixers?
Usually we have stock and can deliver at once,if not available in stock,it will
take about 10 working days to produce.
5.What's the transportation method?
By Truck,Train or Sea