Full Automatic Double working Station Wheel Motor hub motor stator Winding Machine
Machine Feature:
This electric wheel motor stator winding machine is designed for the wheel motor coil winding.
The stator coil winding machine equipped with the servo control system,able to diagnose the fault,count the output ect.
The other function such as auto winding,multi-diameter wires widning,auto indexing,auto skip slot and winding speed could be programmed,easy for operation and maintenance.
Working speed can be continuously variable,no obvious vibration,noise,no wire damage and break.
The HMI could set the winding turns,wire diameter,skip slot,winding direction,wire displacement distance and it could save 20 different parameter groups,easy for operation.
Winding will be automatically stopped once wire is used up.
One-time pass rate at 95%,rework pass rate at 98%.
Technical data :


| | |
| --- | --- |
| Stator O.D.: | 80-200mm |
| Stator height: | 18-35mm |
| Wire diameter: | 0.2-1.3mm |
| Power supply: | 220V,50/60 Hz |
| Parallel winding wire number: | 1-8 |
| Machine weight: | about 700kgs |
| Dimension: | 1300*800*1500mm |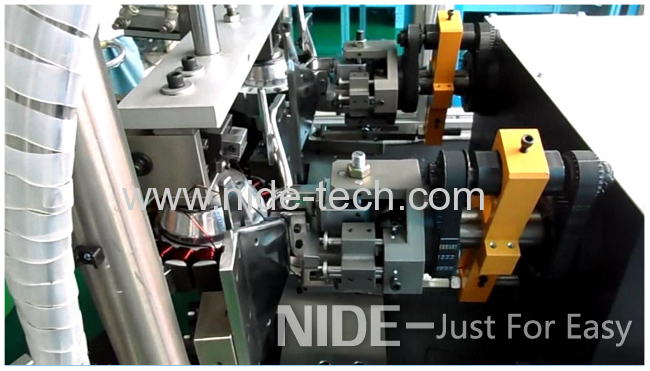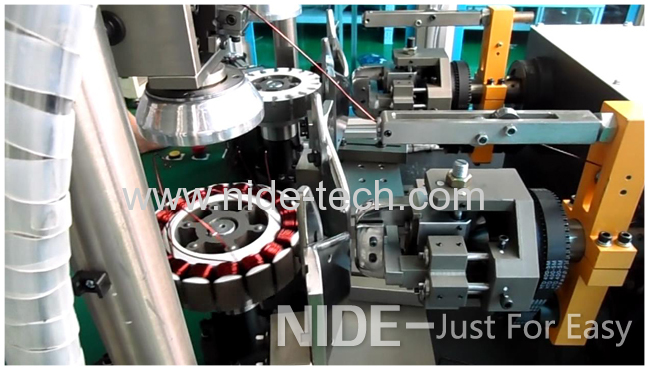 Nide is a company devoted in the field of electric motors manufacturing, providing one-stop service for its customers. Nide has three main business divisions. The first division is to provide different kinds of motor manufacturing machinery, including stand along machine, fully-auto complete line for armature and stator production, and the motor assembly line,motor stator winding machine, staor insulation paper inserting mahcine, stator coil inserting machine , ,bldc / brushless motor winding machine,motor armature / rotor winding machine and rotor die casting machine,etc. The second division is to supply the full range of motor components such as commutator, ball bearing, carbon brush, insulation paper, shaft, magnet, fan, motor cover,etc. The third division is to provide technical support and consulting, project support and turn-key service for some motor manufacturing.