3D Four Wheel Aligner Wheel Alignment Camera with CE
Standard configuration( wheel alignment machine ):
1) High precision digital camera x 2
2) Target plate x 4
3) Cabinet x 1
4) Clamp x 4
5) Computer x 1

6) 19 inch LCD monitor x 1
7) Color printer x 1
8) Mechanical turntable x 2
9) Steering wheel lock x 1
| | | |
| --- | --- | --- |
| | Accuracy | Range(deg) |
| Camber | 1' | 18 |
| Toe | 1' | 20 |
| Caster | 1' | 20 |
| SAI | 1' | 20 |
| Toe-out | 2' | 40 |
| Thrust angle | 1' | 10 |
| Set back | 1' | 4 |
| Wheel base (length) | 2mm | <4000mm |
| Wheel base (width) | 2mm | <3000mm |
OUTSTANDING PERFORMANCE:

1.Fastest measurement speed:
SRD-606 wheel aligner adopts advanced machine vision algorithm and statistical model,has the FASTEST measurement speed,the HIGHEST accuracy and the BEST reliability among all Chinese domestic wheel aligners,it could compare favourably with some famous international brand wheel aligner.
2.Short respond time:
The whole pushing vehicle process takes only 12 seconds, and the calculation time is 2 seconds, with the measurement result value updateds every 0.2 seconds.
3.Flexible messure position:
No matter whether the vehicle position is vertical to the beam,or whether it is level to the ground, the measurement result are stable.Thus,less requirement for the condition of work place.
4.Short distance between font target to the beam:
The target recognition software allows a super broad range of target location. The front target can be placed as close as 1.7 meters and the rear target as far as 7.8 meters. It can handle vehicles in extremely length.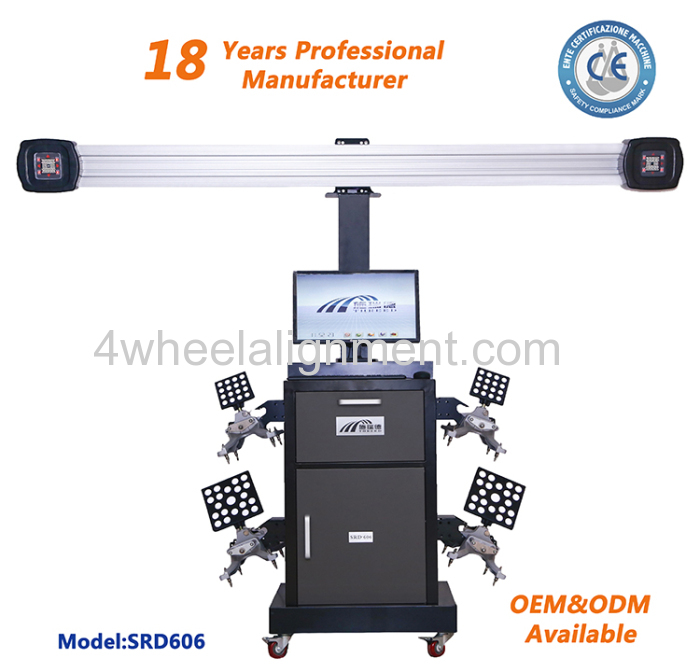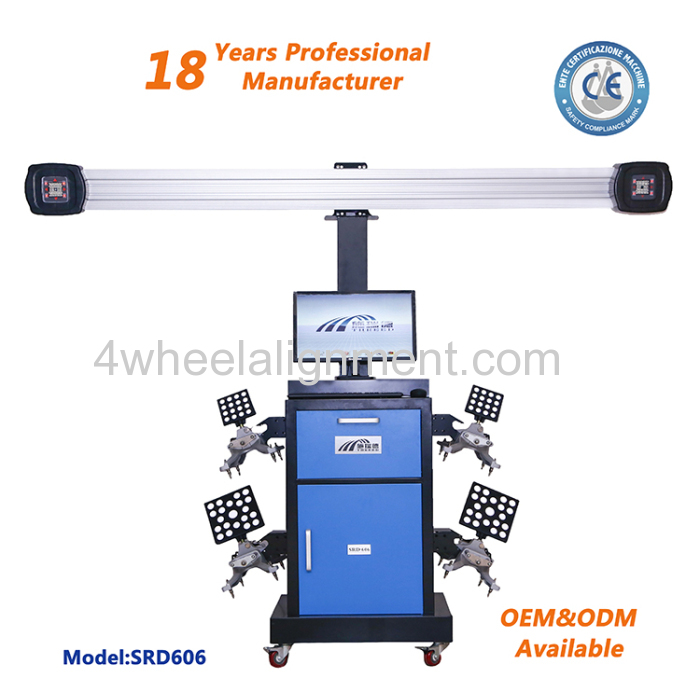 FUNCTIONAL EXELLENCE:
SRD-606 wheel aligner provides many measurement functions,making the overall process EASY.
Based on the accurate reconstruction of vehicle coordinate,it is really convenient to calibrate the steering wheel.
Besides measuring angles of wheels, it can also measure toe-out,wheel base,vehicle frame,set back,rolling radius in a single process.
For some adjustments which need to jack the vehicle up,the software makes compensation for the angle value change after jacking up,and back down.
For adjusting SAI of PASSAT and AUDI,which is a unique process,the software offers corresponding module to guide the adjustment.
The vehicle database is the most up-to-date and is specified by different regions worldwide.It is easy to update from our company,or can be added new vehicle data by users.
Multi-language selection.
Chain store management.The software makes a record in each time measuring,which cannot be decorded,deleted or changed by the employee. The boss can easily manage his chain store without worrying about dishonest employee.
Remote opering system.The aligner connects with a panel computer using WIFI network ,so the technician can read the measurement values when doing the adjustment under the vehicle.
Two wheel alignment.The aligner reduces the four-wheel alignment to just two-front-wheel alignment,for users who only need the front wheel adjustment and want to save the cost without rear target.
Short distance pushing testing.In case the vehicle wheelbase longer and lift runway shorter,or turntable diameter shorter,the operator could choose short distance pushing,there are 1/2 distance,3/4 distance and full distance for option.The measurement result is almost as same as full distance.
Measurement without pushing vehicles.It is convenient but loss some accuracy because of the wheel compensation is missing.Only recommend experienced technician to use this function.
Individuation target pattern for option.To some VIP customer,we offer multiple target pattern choice,we also can design new one according to users requirement.