Semi auto multi-tap wire array automatic coil winding machine for electric motor
(1) Application of the motor coil winding machine
The semiautomatic motor coil winding machine can arrange coils for multi-connection and multi-layer windings. Can be used for a variety of micro-motors, such as induction motors, pump motors, air-conditioning motors, three-phase motors.
When the coil winding machine working, it is only necessary to manually fix the winding position, and the coil winding machine can automatically wind the winding to complete the winding, and manually take out the wound coil.
(2) Technical data
| | |
| --- | --- |
| Product name: | Semi auto electric motor automatic coil winding machine |
| Model: | RX1-100 |
| Winding head: | 4pc |
| Wire diameter: | 0.2~1.0 mm |
| Former diameter: | ≤250mm |
| Transfer distance: | ≥ 170mm |
| Winding speed: | ≤3200RPM |
| Flier track: | 200mm |
| Transfer number: | 2~6section |
| Power supply: | 220V/50/60HZ |
| Inverter: | 1.5KW |
| Motor power:  | 0.75 KW |
| Weight: | about 750kg |
| Dimension: | L1550*W1250*1300mm |
(3) Main functions and features of the coil winding machine
The motor coil winding machine is equipped with four winding heads, which can be wound with 1-4 sets of coils at the same time to improve production efficiency.
Replacing the grinding tool is quick and easy.
It can save 999 sets of data, and the machine will stop automatically once the line runs out.
Maintenance free later.
(4) Main structure of the coil winding machine
The motor coil winding machine is mainly composed of a frame, a winding part and a cable part.
The power output system includes one 0.75 kW motor, one brake, and one stepper motor.
The control system includes one controller, one inverter, and the like.
The main structure includes molds, racks, distribution boxes, wire racks and so on.
(5)Coil winding machine working principle
The motor coil winding machine adopts a special winding machine controller for parameter control.
The 0.75 kW motor is driven by a belt to drive the spindle to rotate.
The square shaft is rotated by the coupling member, and the mold is fixed on the square shaft to rotate, thereby realizing the winding function.
The stepping motor rotates the synchronous wheel through the timing belt to drive the screw to move, and the light rod connected with the screw rod moves accordingly, and the working head fixed on the polished rod moves left and right to realize the cable arranging function.
The CNC controller can realize the functions of winding direction, cable direction, wire diameter, number of coils, automatic homing, and automatic start.
(6)Coil winding machine picture show
1.The motor stator coils show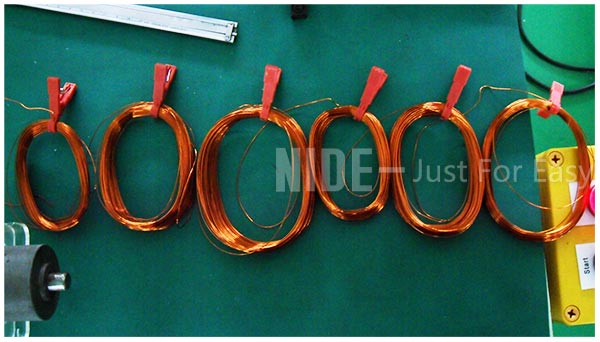 2.The motor coil winding machine mold display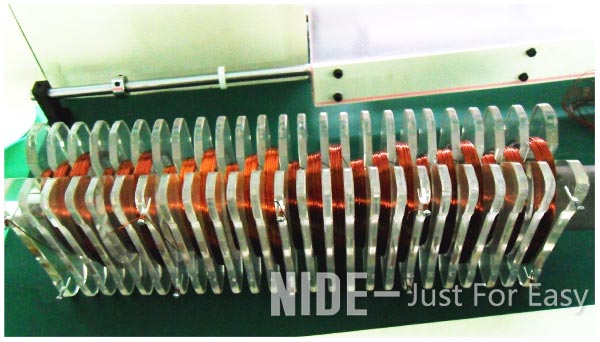 3.The motor coil winding machine working display