MMO/Platinum Titanium Electrodes Used in Impressed Current Cathodic Protection System
Xi'an Taijin devote itself to design and produce mmo/platinum elelectrodes used in onshore and offshore impressed current cathodic protection system since 2000, and to supply the MMO anode material available in rod,wire,tubular,disc, sheet,ribbon or mesh form. MMO anodes work best in aggressive solutions or other difficult applications and our anodes are performance-tested through DNV accelerated life tests according to latest NACE standards.
1. Application Environment of MMO Coated Titanium Anodes
1) seawater
2) brackish water
3) fresh water
4) carbon backfill
5) concrete
MMO coating amazingly prolongs the life of the anode and provides excellent chemical corrosion resistance, especially in acidic conditions. MMO coating has an extremely low consumption rate, with a Faradic wear rate of approximately 4 micrograms of coating per Ampere day. As a result of this low consumption rate, the metal dimensions remain nearly constant during the design life of the anode, which provides a consistently low resistance anode.
With over 19 years experience in manufacturing anodes, Xi'an Taijin believe our technical expertise is matched by our production capability, providing our customers with the highest quality products and a first-rate service.
2. Introduction of Xi'an Taijin
1) Name: Xi'an Taijin Industrial Electrochemical Technology Co. Ltd.
2) Business model: State-governed, associated with Northwest Insititute For Nonferrous Metal Research, strong technological support and research & development teams
3)Establishment: Nov.20, 2000
4) Workshops: 4 workshops, 10 Sintering furnaces, 110 workers/3 shifts
5) Process and inspect facilities: state-of-the-art machining, sand-blasting, coating and inspecting enquipment
5) Development & Patents: 38 professors and engineers with engineering experience and expertise, 54 patents in titanium electrodes field up to 2018
6) Quality Control and Assurance: independent state-level laboratary and inspecting center, the complete and strict quality control system
7) Working Partners: Corrpro, Catheco, Savcor, EPE, Titan, CNPC, Sinopec Group, Qingdao Sunrui etc.
7) The 3rd party certificates
(1) MMO Ribbon and MMO Mesh Ribbon-passed the quality test from Det Norske Veritas(U.S.A.) Inc
(2) Facotry Processing Capability Certificates-SGS and BV
(3) Quality Control System Certificate-GB/T19001-2016/ISO9001:2015 from QMS, IAF, CNAS.
Xi'an Taijin MMO Ribbon and MMO Mesh Ribbon passed the quality test from Det Norske Veritas(U.S.A) INC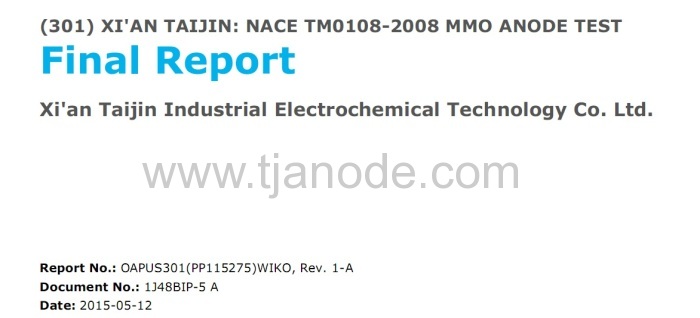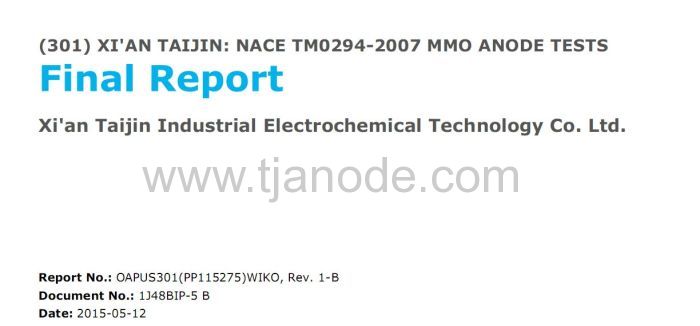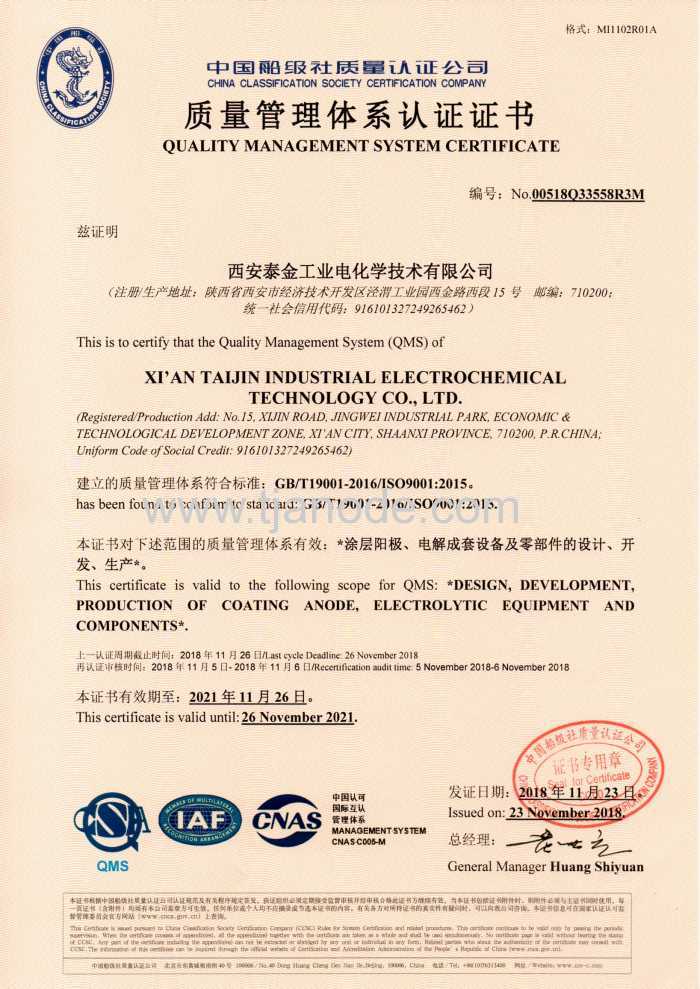 3. Products and working shop