Lincoln VSG, VSG2-KR, VSG4-KR, VSG6-KR, VSG8-KR lubrication distributor is design to equipp with the ports upper and lower, The grease is discharged once when the forward and backward movement of the piston from above and below, respectively to the oil port at a time. , Next to the oil port on the corresponding oil discharge structure of the houses are combined, to change the odd oil, simply adjust the direction of the Guide bushings can be realized, it can also be viewed from the indicates direct lever action dispenser work, can also be adjusted by adjusting the screw in easily under the outlet to the oil.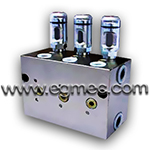 Lincoln VSG, VSG2-KR, VSG4-KR, VSG6-KR, VSG8-KR Lubrication Distributor
The VSG series of Lincoln lubrication distributors are suitable for nominal pressure 400bar two-wire centralized grease lubrication system. Turn of the head of its two oil supply oil under pressure, directly controlled by the oil pressure piston action, complete the features of rationed grease to lubrication points.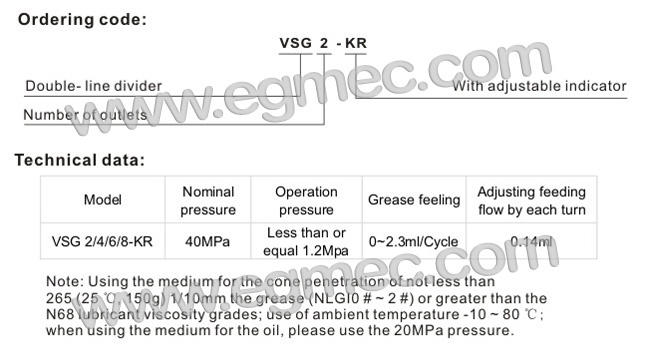 This
Grease lubrication divider valve
for the double nominal pressure 40MPa dry oil lubrication system, it is the turn of the head of the two oil supply pressure, directly from the oil pressure control piston moves to complete the quantitative distribution of grease to the lubrication point function.
For the corresponding instructions combined upper and lower exports, simply tighten the screw hole, put up or down without the oil that is used at G1 / 4 plug sealing to prevent dust intrusion. Order Information distributor installation environment temperature -10 ℃ ~ 80 ℃ in order to be outside the scope specified in the contract to supply to provide low resistance, high temperature seals.
Lincoln VSG, VSG2-KR, VSG4-KR, VSG6-KR, VSG8-KR lubrication distributortechnical data and installation dimensions as follow;