Razor wire is also named concertina coils or razor type barbed wire. It is a kind of modern security fencing materials with better protection and fencing strength, made of hot-dipped galvanized steel sheets or stainless steel sheets. With beautiful and sharp blades and strong core wire, razor wire has the features of secure fencing, easy installation, age resistance and other properties.

Razor type barbed wire is widely used in high-grade residence district, warehouses, prisons and in military fields and other sites requiring severe fencing and security. Razor wire can be classified into straight type razor wire, concertina coils, crossed type and flat type according to the installation models.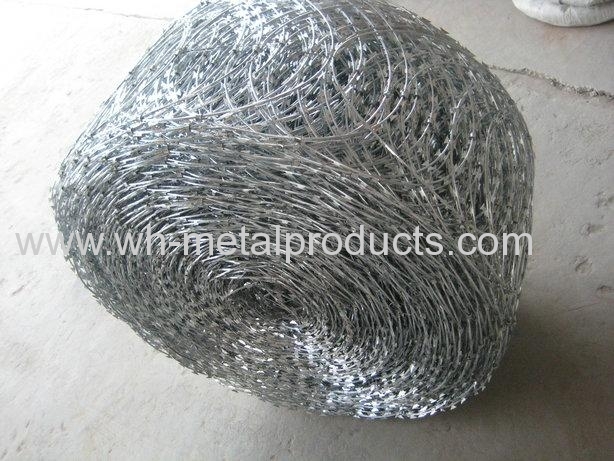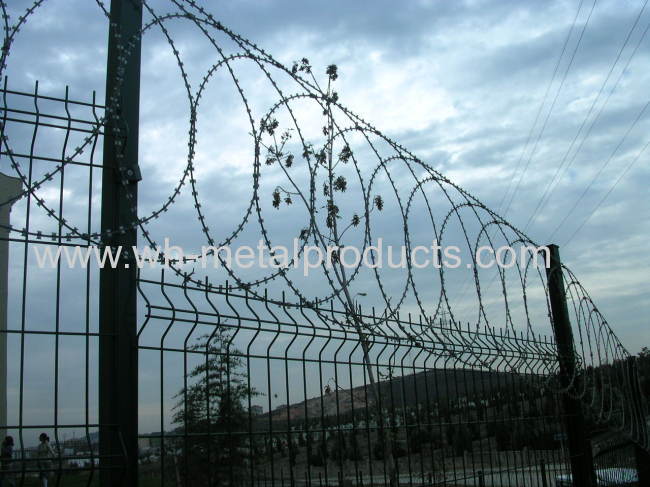 Specifications:
Razor wire mesh
sheet can be made according to the actual dimension of customer; the special product is manufactured according to the drawing.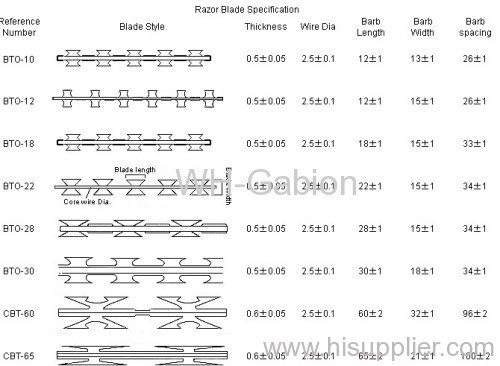 Barbed Tape Concertina (CBT);Barbed Tape Obstacle (BTO) .
Standard materials are either hot dipped galvanized or stainless steel.
Standard blade styles are shown in the tables above, special specifications are available on reques.

Concertina razor wire coils are the most popular high security fencing for military and high grade residences safety. Two main types available for concertina coils: one is the single coil and the other is crossed concertina coils. Crossed concertina offers the highest security grade among all the razor wire fencings.
Two pieces of razor wire can be bounded together by clips to make it stronger. The spiral intersecting barbed wire presents an intersecting shape after opening with beautiful outlook and practical property, we also can supply the welded razor mesh pieces, and welded razor mesh rolls, flat razor wire coil..
Features: Compact and rational structure, high safety factor, for the protection of prison and key project.
| | | | | |
| --- | --- | --- | --- | --- |
| Outside Diameter | No. of Loops | Standard Length per Coil | Type | Notes |
| 450mm | 33 | 8M | CBT-65 | Single coil |
| 500mm | 41 | 10M | CBT-65 | Single coil |
| 700mm | 41 | 10M | CBT-65 | Single coil |
| 960mm | 53 | 13M | CBT-65 | Single coil |
| 500mm | 102 | 16M | BTO-10.15.22 | Cross type |
| 600mm | 86 | 14M | BTO-10.15.22 | Cross type |
| 700mm | 72 | 12M | BTO-10.15.22 | Cross type |
| 800mm | 64 | 10M | BTO-10.15.22 | Cross type |
| 960mm | 52 | 9M | BTO-10.15.22 | Cross type |