Razor Barbed Wire
Material:
selectedquanlity low carbon steel wire, electro-galvanized wire, hot-dipped galvanizedwire (sheet) etc. Also for quality high carbon steel wire , PVC coated wire(sheet).
Type:
RazorBarbed Wire Coil or Razor Barbed Wire Mesh
Characteristics:
Razor barbed wire mesh is a new kind of protectivefencing with such advantages as beautiful appearance,economical cost andpracticality,and convenient construction.
Uses:
Razorwire can be installed in the form of barbed tape wire or concertina coil towalls or fencings. It also can be suitable for industry, agriculture, animalhusbandry, dwelling house, plantation or fencing.
Packing:
Bybulk, carton or pallet. Or customised packing is available.
Specificationfor reference: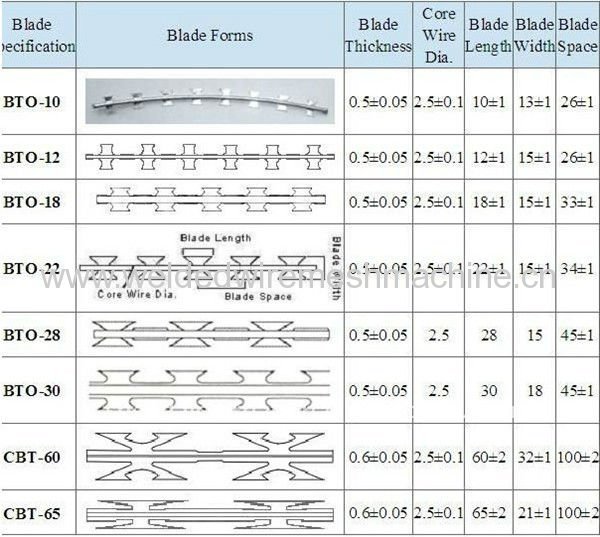 Note:The specification is for your reference.We can make itaccording to your requirement.

If you are interested in this itemand want to know more information, welcome to contact us! We will try our best to provide youthe most competitive price and good quality product, with the bestservice.
Best regards
Flora Gao
Tel:86-311-67503285
Fax:86-311-67503235
Cellphone:86 15100128415
Shijiazhuang Tianyue Honest Co.Ltd
Rm:Flat B, 1706, Amethyst Square, HepingRoad
Shijiazhuang Hebei 050061 China.