Pallet storage racking, pallet racking, drive-in pallet storage racking
Specification:
1.material: high quality metal
2.size:2700*1000*3000mm
3.Surface treatment: static powder coating spray
4.Metal pallet rackinging feature: corrosion protection
5.Metal pallet rackinging load capability: 1-3T/layer
6.Packing: simple packing or as require
7.Metal pallet rackinging use: metal pallet
8.Certification: RoHS/CE/ISO9001:2000
9.Distance between two holes: 50mm
10. Color: blue and red or as require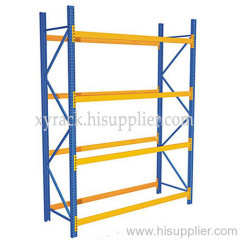 Advantages:
1.Excellent in quality and beautiful in appearance with high quality metal
2.Easy to dismantle and assemble without any nuts & bolts and tools
3.utilize the space of metal pallet effectively
4.Can be adjusted freely by a pitch of 50mm
5.Prompt delivery and shipment
6.Excellent security
7.Static powder coating

There are three kinds storage racking,according to the load capibility.They are light-duty racking,medium-duty racking and heavy-duty racking.
Light-duty metal pallet storage Racking storage racking(general angle steel shelving), complete joggling, is very convenient for installation. The adjustment distance of steel layers is 50mm for multiple usages. It is consisted of vertical columns, layer plates, corner pieces, pins, special bolts and plastic footing. The surface is electrostatic sprayed and the color is selectable. It has good ability of corrosion protection and rust protection. It is widely used in families, stores, supermarkets, company storages and public institutions. It is the most updated products.
Medium-duty metal pallet storage racking storage racking has good appearance and scientific structure. It is consisted of vertical columns, crossbeams, narrow hanging, wide hanging, layer plates, safety pins, limiting nails and plastic footing. The structure is inserting connected by slice and beam. Its safe and convenient to access. The beam can be adjusted by 50mm distance for large carriage and long unit racking. Load capability of each one is 250- 500 kg. It is widely used in stores, supermarkets, company storages, public institutions.
Heavy-duty metal pallet storage Racking storage racking structure is assembled, so the height is adjustable, and the section is advanced designed.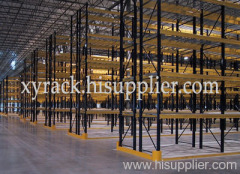 At the same time, it is the most common way of storing because of its easy access and load capability with all kinds of stacking equipments.
1.Detailed installation plan of storage;
2.Logistics direct and demand of storage area;
3.Model and data of using forkman;
4.Rising height of forkman and available net height of storage;
5.Pallet size, Fork access direction and goods weight on the pallet.