Shelves display rack, Light duty shelves, slotted angle rack, Angle steel rack, Rivet shelves Racks (rivet shelf & boltless shelves)
1.Material: high quality steel
2.Racking size: 1200*400/500/600*2000mm or as require
3.Surface treatment: power coating
4.Feature: corrosion protection
5.Load capability: 50-200kg/layer
6.Packing: export carton or as require
7.Use: warehouse/supermarket
8.Certification: RoHS/CE/ISO9001:2000
9. Color: blue and red or as require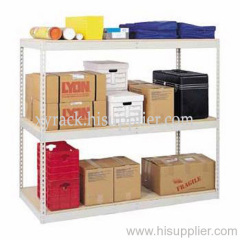 Advantages:
1.Structure scientific
2.Assembly consists of simply slotting the beams and cross beams into place along the uprights
3.Suitable for manual picking
4.Can be adjusted freely
5.The angle can be used with chipboard or plywood panels
6.Prompt delivery and shipment
7.Access to stored items from all side
Shelves display rack, which is also called light-duty shelving, consists of angle posts, angle beam, galvanized or painted steel shelving, angle plate and other accessory.
Application :
slotted angle shelving or light-duty shelving is mainly used in supermarket, pharmacy, library, retailing stores etc.
Profiles :
Vigorous studies have been carried out on the slotted Angle system to determine the selection process of raw material and the distribution of the slots. A variation of profiles has been manufactured for different loads. The pitch between slots is 50 mm.
Shelves :
The shelves are manufactured in cold-rolled steel plate of the highest quality.
Accessories :
TOPSUN has a complete range of accessories available to adapt to your specific needs.