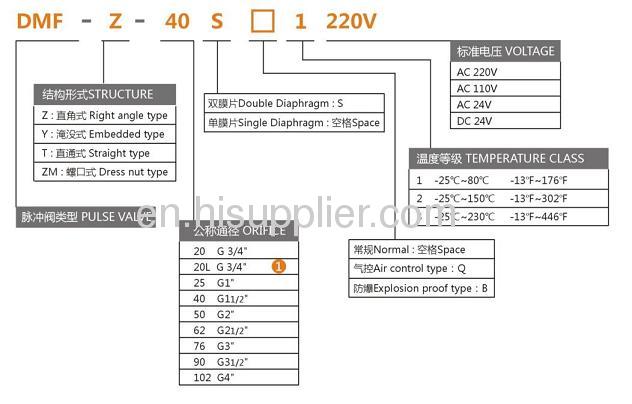 This Series Diaphragm operated valve
can supply the port : 3/4 inch & 1 inch & 1.5 inch & 2inch & 2.5 inch & 3 inch.
Inculinding
right angle diaphragm valve
and
embedded diaphragm valve
and
"DD" series with dressed nut valve.
Indluding
single diaphragm and doulbe diaphragm Pulse valve.
And the voltage can be DC12V, DC24V ,DC36V,DC48V,DC110V, DC220V ,DC380V and AC12V,AC 24V ,AC36V,AC48V,AC110V, AC220V ,AC380V
Port size: 3/4", 1/2", 1", 1-1/2", 2", 2-1/2" 3"
ISO9001:2000, Ordering Code: DMF
Right angle diaphragm valve, embedded diaphragm valve, Dressed nut connection diaphragm.
Pulse frequency can be controled as you want. Valve operate control by the diaphragm valve controller.
1) Media: clean compressed air
2) Normal close
4) Port size: 1", 1-1/2", 2", 2-1/2" 3"
5) Port thread: "G" thread normally
6) Working pressure: 3 - 8 bar
7) Media temp.: -30°c-55°c
8) Valve voltage: DC 12V, 24V ,36V,48V,110V, 220V ,380V and AC12V, 24V ,36V,48V,110V, 220V ,380V
9) Valve body material: aluminum
10) Pulse valve series: JKD, ASCO, GOY
10) Diaphragm life: 1 Million cycles or 5 years. All the Diaphragm operated valve
produced by JKD use the imported diaphragm from USA.

JKD Pneumatic Engineering Co; Ltd, we are the manufacturer of diaphragm operated valve, we wholesale diaphragm operated valve with competitive price, If you want to buy diaphragm operated valve or sale diaphragm operated valve as our agent in your market, Plealse contact with us for further information about the diaphragm operated valve.

We are appreciate to inform you more information about diaphragm operated valve products produced by us in details

JKD, GOY, ASCO, 3 series diaphragm operated valves for you to make a choice.
Any questions, feel free to contact with us.