Using Scope
Widely used in kitchen knives, fruit knife, chef knife.
Features
1, Three-stage design,allow for coarse grinding, medium grinding and fine grinding.
2, The unique elastic grinding slot design, enhance the result of sharpening, and increase the life of sharpener.
3, Non-slip base, soft ergonomic handle design, ensure safety and comfort.
4, The body is classic styling and streamlined aluminum alloy design, make appearance more fashionable.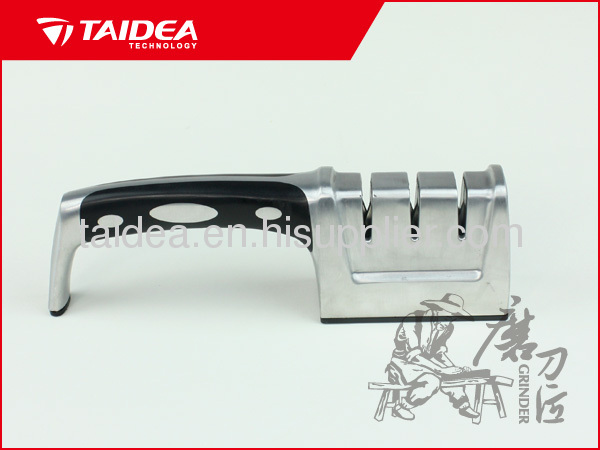 Using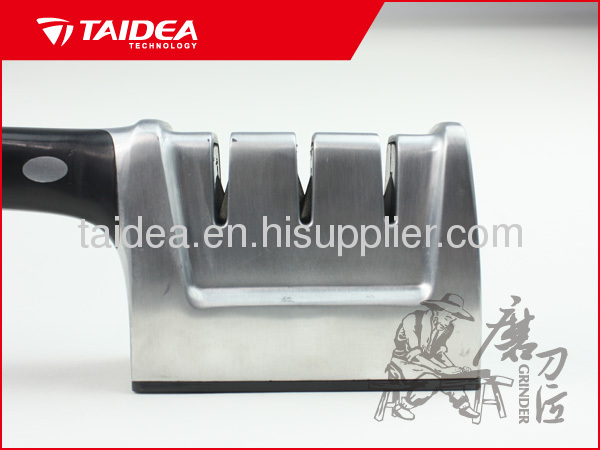 Instructions
1, First, place the sharpener on the platform, one hand grip the handle, another hold knife.
2, According to the blunt knife, do as the following one, two or three steps:
Step one: Coarse grinding for a blunt knife
Place the knife into the diamond grinding slot, keep the knife in the middle point of the slot, with a slight downward pressure and pull the knife along the blade from the tip to the heel.
After grinding sharp,just repeat six months later, also can use according to specific circumstances.
Step two: Medium grinding for knife maintenance. This stage can be used when you feel the process of using the knife is not perfect. Please refer to the first step about using method.
Step three: Fine grinding, this is a necessary step for the elimination of burrs on the edge, ensure the blade smooth and bright.
Please refer to the first step about using method.
Usually, it is recommended once a week or everyday, keep your blade sharp every time.
3, After grinding, clean knife with a damp cloth or wash with water and then dry it. Clean grinding slot with a soft brush, keep the sharpener clean.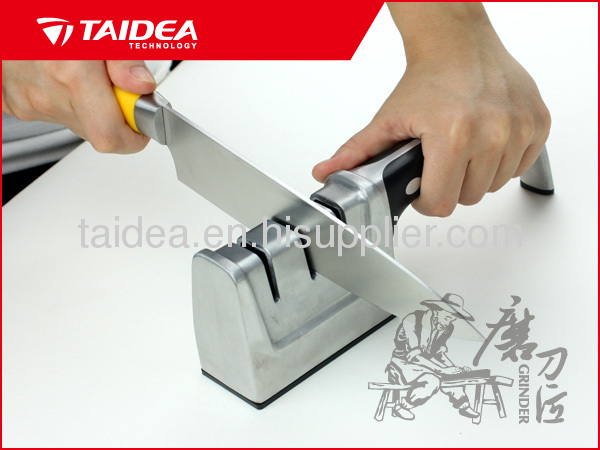 Caution
1, Sharpening with a slight pressure, so as not to damage the blade.
2, Do not put the knife sharpener into dishwasher or water.
3, Do not put sharpener and knives in reach of children, as to avoid accidents.