Composite graphite gasket sheet


Description:
Sealstars provides graphite sheet is an non-asbestos gasket sheet on the basis of graphite, mineral fibers, aramid fiber and NBR rubber.It has all the performance of graphite.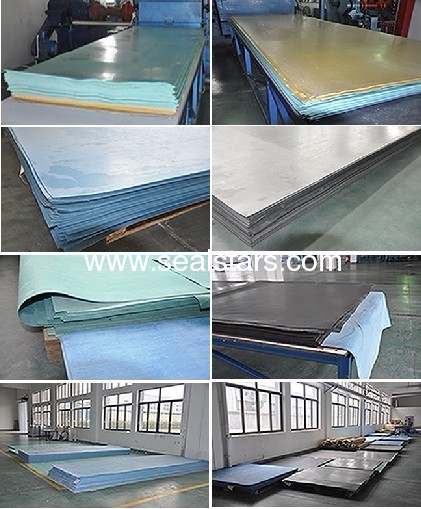 NY5300
Data:
Item
Unit
Value
Identification color/overprint
/
Black/black
Density
g/cm3
1.75
Tensile strength ASTMF-152
Mpa
≥7
Compressibility ASTMF-36
%
7~17
Resilience ASTMF-36
%
≥40
Creep relaxation rate
N/mm²
≤30
Leakage rateASTMF-37
cm3/s
1.0×10-3
Oil resistance
/Thickness growth
ASTM1#oil (ASTMF-146)
%
≤10
ASTM3#oil (ASTMF-146)
%
≤15
Temperature
℃(℉)

200~250 (392~482)

Applicable medium:it has excellent oil-resistance and good strong acid resistance.it can be used Any occasion Except for special conditions for Containing a certain amount of graphite. The highest usage temperature is 300℃(572℉),long-term usage temperature should be 200℃~250℃(392℉~482℉). Usage pressure ≤5Mpa.
Note:Load with the maximum values for pressure and temperature is no possible in operation state; see p.T standard value.
Prime Features
> Material: graphite,Organic fiber,Inorganic fibers,NBR
> Size:1500x1500,1500x2000,1500x1000,1300x1300(mm)
> Thickness:0.5-5mm
> 100% not including asbestos
> Wide range of temperatures
Product Data: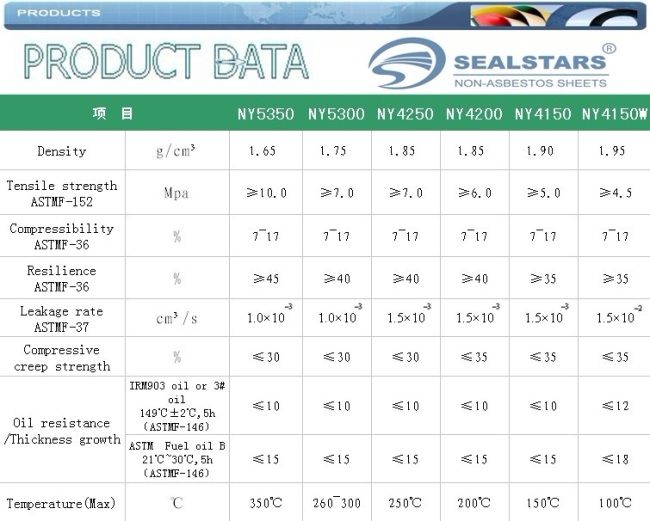 Quality Control:

Quality is enterprise's survival premise, the market is enterprise's survival environment, customer is the enterprise survival, the benefits source. Enterprise continuously to develop and continue to improve quality level, by the fine quality of employees to make high quality product, excellent service and good reputation, be honest, credible, win the broad market seek greater progress and development.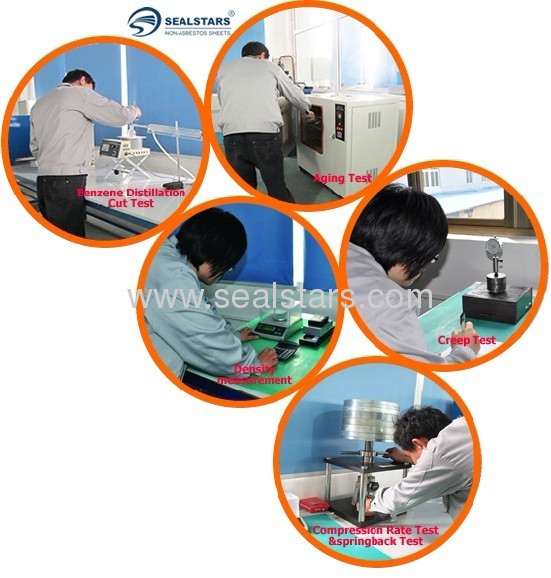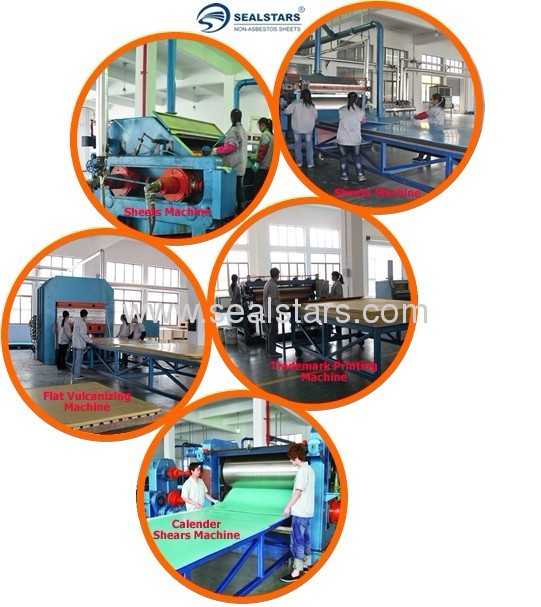 Certificate:

Sealstars is the only manufacture get GL certificato in China.