Disposable Absorbent Under Pad/Maternity Pad/Disposable Gynecological Examination Pad/Abdominal Pad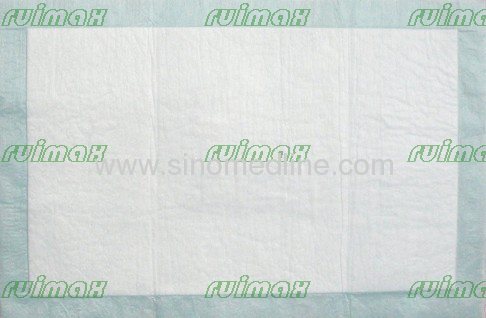 Specification:
1.High polymer bed pad: featured with high water-absorbing quality. Polymer pad
protects patient skin. Patient sweat is absorbed by polymer, so as to keep pad
dry and comfortable
2.Pad lined with multilayer and less layer toilet papers: saves cost and prolongs
service life. The pad is filled with multi-plicate tissue paper to guarantee
high water-absorbing quality and comfort at high temperature
3.Pad containing wood pulp: featured with soft and high water-absorbing quality.
It can absorb urine and other body fluid for several times, so as to keep top layer
dry. Users are free from urine, other body fluid and excremental material
4.Color:red, green, blue, yellow, gray or others;
5.Size: 600X800mm(80g)
600X900(80g)
600X900(90g) etc
Features:
1.High quality nonwoven fabrics as top layer are clean and dry, feeling and soft to touch;
2.The absorbing layer is composed of fuzz pulp coated by toilet paper and high polymer absorbing resin;
3.High polymer absorbing resin can absorb liquid 150 times larger than its volume;
4.The bottom film is high quality flow casting film which does not leak water; it effectively prevents clothing from getting dirty due to liquid spillage and penetration, and keeps the place dry and clean;
5.Capable of absorbing urine and other liquid for many times, so as to keep the pad surface dry and comfortable;
6.Can absorb quickly foul odor and keep the air in pet room fresh;
How to use: Spread out the pad, and laid on a bed directly, soft nonwoven side up ward and touch the body;
Note:
1.This product is a one-time use only and destroyed after use;
2.Prohibition of use with damaged package;
3.The asepsis term of validity is two years, prohibit the use of expired products;
4.Should be stored in a dry, ventilated environment;
Applicable Scope:Used for protection pad during the gynecological examination;