Disposable Nitrile gloves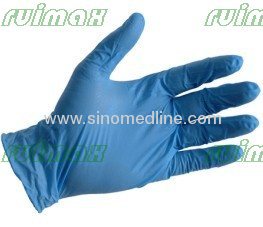 Specification:
Material: Nitrile;
Sizes: L/M/S.
Color: Blue.
Powder free or powdered;
Non-sterile;
Features:
1.Nontoxic, no color, no impurities, no taste, regardless of right-hand man, wearing off, easy to use;
2.Wear convenience and comfort, with anti-static properties, various colors, to ensure quality;
3.Does not contain allergens, low ion content. Does not contain plasticizers, esters, silicone oil and other ingredients, with a strong chemical resistance;
4.Has good touch, acid resistant, anti-oil, anti-infiltration, anti-bacteria;
The nitrile Gloves' softness, easiness is worse than natural rubber latex gloves. However, its physical protection character are superior to natural rubber latex gloves and it is protein free, which doesn't cause the potential allergy.
How to use:
1.Open the package after confirm the validity period;
2.Take out the gloves put them on according to the sterile operating requirement;
Note:
1.This product is a one-time use only and destroyed after use;
2.Prohibition of use with damaged package;
3.The asepsis term of validity is two years, prohibit the use of expired products;
4.Should be stored in a dry, ventilated environment;
Applicable Scope:Use for health care, beauty, foods, medical exam;