Neodymium magnet is the strongest magnet in the world till now that can lift up to 1000 times its own weight, it is mainly made of Neodymium, Iron and Boron. It is high remanence, high coercive force, high energy product and high performance/cost ratio. Neodymium magnet is anisotropic and only magnetized in one direction.
Feathers of Sintered NdFeB block magnet :
1. Materials: Rare earth Neodymium-Iron-Boron, Sintered NdFeB permanent Magnets;
2. Certification: ISO9001:2000, ISO14001, ISO/TS16949
3. Magnetic properties:
a) High coercive force, max is over 35KOe,
b) (BH)max from 28 to 55MGOe,
c) Max working temperature up to 240°C;
4. Grades: N30-N54, N30M-N52M, N30H-N50H, N30SH-N45SH, N28UH-N42UH, N26EH-N38EH, N28AH-N35AH;
5. Shapes: Block(Rectangle), others;
6. Sizes of Sintered NdFeB block magnet : L x W x H, Customized;
| | | | |
| --- | --- | --- | --- |
| Block | Length | Width | Thickness |
| Maximum | 180mm | 150mm | 35mm |
| Minimum | 1mm | 1mm | 0.5mm |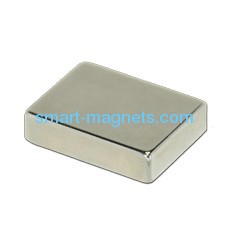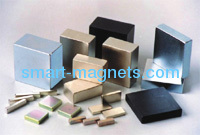 7. Tolerance: ±0.05mm, Customized;
8. Coatings of
Sintered NdFeB block magnet
: Nickle, Black nickel, Zinc, Blue zinc, Epoxy resin, Gold, Silver, Passivation, and so on;
Coatings: Passivation, Nickel, Zinc, Tin, Aurum, Copper, Epoxy, Chemical, etc.
Surface

Coating

Thickness (Microns)

Color

Resistance

Passivation

1

Silver grey

Temporary protection

Nickel

Ni+Ni

10-20

Silver bright

Excellent to humidity

Ni+Cu+Ni

Zinc

Zn

8-20

Shining light blue

Good to salt spray

Cu-Zn

Shining color

Excellent to salt spray

Tin

Ni+Cu+Sn

15-20

Silver

Superior to humidity

Aurum

Ni+Cu+Au

10-20

Shining gold

Superior to humidity

Copper

Ni+Cu

10-20

Shining gold color

Temporary treatment

Epoxy

Ni+Cu+Epoxy

15-25

Black, red, grey color

Excellent to climate humidity and salt spray

Zn+Epoxy

Chemical

Ni

10-20

Silver grey

Excellent to humidity
9. Applications of Sintered NdFeB block magnet : Toys, Packing boxes, Micro-special electric machinery, Permanent-magnet instrumental meters, Electronic industry, Nuclear magnetic resonance equipments, Magnetic suspension system, Magnetic transmission gears, Magnet therapy equipment, Sorption, ads, Books managements, Teaching tools, Office automation , Magnetic separators, Copiers, Synchrotrons, Radiation sources, Nuclear industry, Agriculture industrial, Detection earthquake, and so on.


Payment Terms:
We accept TT & western union & L/C.
Shipping:
1.Terms of Shipment:
By sea, by air, by express courier to the world, Before ordering please contact us to confirm your preferred shipment method.
Feedback:
Customer satisfaction is very important to us. If you are satisfied with the items you ordered, please leave feedback. If you are not satisfied with the items you ordered, please contact us before leaving negative feedback. We can work together to resolve any dispute.