Medical
Zinc Oxide Adhesive Tape, Zinc Oxide Plaster, Adhesive Plaster
for surgical use
Zinc Oxide tape
is a non stretch cotton or rayon tape with a
Zinc Oxide Adhesive
.
Zinc oxide adhesive tape
is a kind of tape painted with adhesive made of natural rubber and zinc oxide on weaving-cloth back lining. It is used in surgical operation, for the fastening of dressing or catheter, and in sports protection, labor protection and industrial packaging as well. The perforated adhesive coating allows air to circulate and thus lets the skin breathe.
Specification:

1. Perforated or non-perforated
2. Available at 2.5cmX2.5m, 5cmX5m, 18cmX5m or any sizes customized
3. non-toxic, pyrogen free, non-sterile or sterilized
Fetures:

a. package: injection can,simple pacaking,tinplate can,etc
b. Standards:European pharmacopoeia, British pharmacopoeia,Americian pharmacopoeia
c. Certificate: CE & ISO
d. Shelf time: 3 years
Instruction :
Apply to Clean Dry Skin, Store in a cool place. Store away from heat and direct sunlight.
Catagory:
Item: Medical Zinc Oxide Adhesive Tape
Ref.
rolls/boxes
Carton size(Cm)
WD01255
2.5cmX5m
12/360
59X36.5X22.5
WD01505
5cmX5m
6/180
59X36.5X19.5
WD01755
7.5cmX5m
6/144
59X36.5X27
WD01105
10cmX5m
6/120
59X36.5X24
WD01125
1.25cmX1m
800
use in first aid kit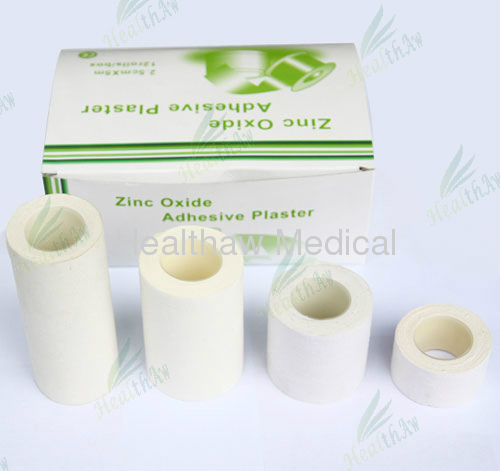 Zinc Oxide Adhesive Tape Plaster