XQ series Quick Exhaust Valve

Summary:

The valve is generally installed on the pipeline between the cylinder and reversal valve and near the cylinder

Which directly discharge the air from cylinder without passing the reversal valve and thus to achieve the goal of fast reversion of cylinder.

The effect on improving cylinder speed is especially obvious.

P:Connect reversal valve export
A:Connect cylinder
R:Connect muffler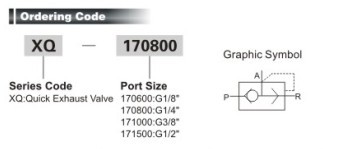 Our company also can provide other pneumatic valves as follows,


1.Pneumatic Control Valve


2.Two position two way solenoidvalve(aluminum,brass,stainless steel,plastic)


3.Mechanical valve:Hand valve,foot valve,manual valve


4.Pusle valve


5.Angel valve
More information and detailes,you can contact us andvisit our online website.


If you have the nonstandard products to design,don't hesitate to contact us.


XCPC is your good choice in Pneumatic!