Bamboo Chopsticks With Full Paper Wrap
Specifications
1.Material:100% moso bamboo
2.Shape:Sousei/twins
3.Length:24cm
4.Thickness:5.0mm
5.Grade:A
6.Surface:no/without knot,very clean and nice looking
7.Inner Packing:nude packing
Outer Packing:100pairs/PE bag,30PE bags/export carton
8.Carton size:52cm*25cm*36cm
9.Gross weight:20kg/carton
10.MOQ:100 cartons
11.Delivery time:within 25 working days after order confirmed
Excellent on humidity,sanitation control
wide variety chopsticks offered
packing: bulk, paper wrapped, wholly wrapped
Bamboo Chopsticks With Full Paper Wrap
Product
Name
Disposable bamboo Chopsticks
Usage
Tableware,household ,Dining,Resturant .etc
Material
100% Mao bamboo
Size
Our regular size is 18,21,23,24cm length .4.3-5.0mm thickness .Up to your option
Color
Natural bamboo and carbonized color
Feature
Eco-friendly, smooth, clean, safe to use, hard
Production types
Disposable andusable,Tensoge,Twins,Rikyu,Genroku,Round,Square ,Skewer and so on
Inner packing
100 pairs/PE bag 20-30 bags/carton (regular packing).We can provide semi-closed or sealed paper (plastic) packing for each pair of chopsticks ,also we can make inner box. Personified design and logo are workable .up to your option.
Carton size
53.5*43*23.5(21cm chopsticks), 53.5*43*25cm(24cm chopsticks)
Carton weight

N.W:18.5-19.5KG(21cm) 20-21.5KG(24cm)

G.W:19-20KG(21cm) 21.5-22KG(24cm)

Volume of 20's FCL
660 cartons(21cm) 600 cartons(24cm)
Volume of 40's FCL
1200 cartons(21cm) 1000 cartons(24cm)
Outside packing
Standard exporting carton and PE bags.
Quality
A,A/B,B ,up to your choice
Market
North America ,Korea,Japan ,Russia and so on

Delivery and payment terms
| | |
| --- | --- |
| Production time | About 2-3 weeks after sign the contract. Exact time depends on the quantity and the packing of the goods |
| Tansaction mode | FOB Ningbo FOB Shanghai.CIF. CNF .etc. up to your option. |
| Payments terms | T/T, L/C AT SIGHT |
| Certificates | CIQ ,If necessary ,We can make the relevant certificates for you |
| Sample charge | Samples for free , You just need to pay the freight . |
Bamboo Chopsticks With Full Paper Wrap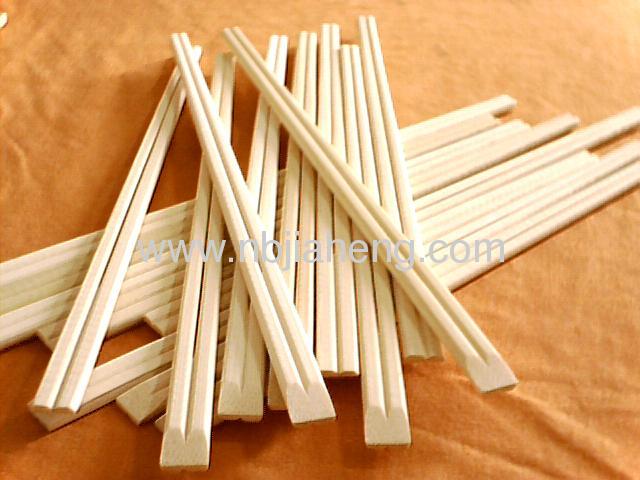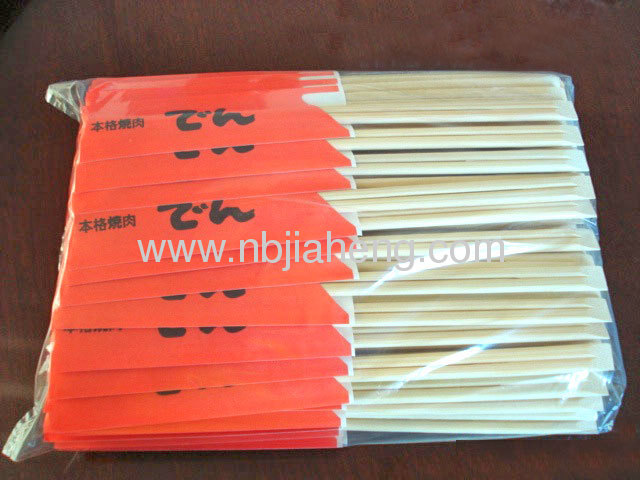 Chopsticks Introduce

The English word "chopstick" may have derived from Chinese Pidgin English, a pidgin in which "chop chop" meant "quickly".According to the Oxford English Dictionary, the earliest published use of the word is in the 1699 book Voyages and descriptions by William Dampier: they are called by the English seamen Chopsticks".


The Chinese term for chopsticks is kuaizi Chinese: ; pinyin: kuàizi. The first character is a semantic-phonetic compound with a phonetic part meaning "quick" , and a semantic part meaning "bamboo"
In ancient written Chinese, the character for chopsticks was (Middle Chinese: wo-; pinyin: zhù; jimay have been widely used in ancient spoken Chinese, its use was eventually replaced by the pronunciation for the character pinyin: kuài, meaning "quick". The original character, though still commonly used in writing, is rarely used in modern spoken Chinese languages, with the exception of modern Hokkien, which maintains the old usage. Although


For written semantic differentiation between the "fast" versus "chopsticks" meanings of , a new character was created for "chopsticks" by adding the "bamboo" radical to it.

In Japanese, chopsticks are called hashi , written . They are also known as otemoto or o-temoto, a phrase commonly printed on the wrappers of disposable chopsticks. Te means hand and moto means the area under or around something. The preceding o is used for politeness.

In Korean, (, jeo) is used in the compound jeotgarak which is composed of jeo (chopsticks) and garak (stick). Jeo cannot be used alone.
In Vietnamese, chopsticks are called "", which is written as with trúc (bamboo) as the semantic, and do as the phonetic part in Chu Nom.
History

Chopsticks originated in ancient China as early as the Shang dynasty (1766-1122 BCE), replacing the fork. The earliest evidence of a pair of chopsticks, made of bronze, was excavated from the Ruins of Yin near Anyang, Henan, dated roughly 1200 BCE The earliest known extant textual reference to the use of chopsticks comes from the Han Feizi, a philosophical text written by Han Fei (c. 280-233 BCE) in the 3rd century BCE.


The first chopsticks were probably used for cooking, stirring the fire, serving or seizing bits of food, and not as eating utensils. Chopsticks began to be used as eating utensils during the Han Dynasty. Chopsticks were considered more lacquerware friendly than other sharp eating utensils. It was not until the Ming Dynasty that chopsticks came into normal use for both serving and eating. They then acquired the name kuaizi and the present shape.


China, Japan, Korea, and Vietnam have had chopsticks as part of their traditional eating utensils for thousands of years.

If you are interested in any of our products or would like to discuss a custom order, please feel free to contact us.