Four point contact ball slewing bearing
has high load carrying capacity, a versatile range of applications and are highly cost-effective. Due to their design, a single bearing can reliably support radial, axial and tilting moment loads. It is therefore possible in many cases to replace bearing arrangements comprising a combination of radial and axial bearings by a single bearing.
This reduces, in some cases considerably, the costs and work required in the design of the adjacent construction and the fitting of bearings. It is made up of mounting holes, inner gear or outer gear, grease hole and sealing device. It has many positive characteristics; compact structure, light weight, good rigidity, steady speed and high precision.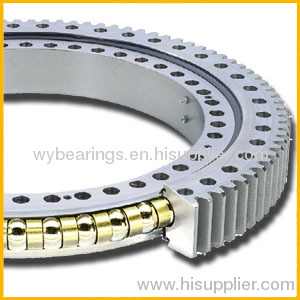 Four point contact ball slewing bearing