Grade A disposable tableware bamboo skewer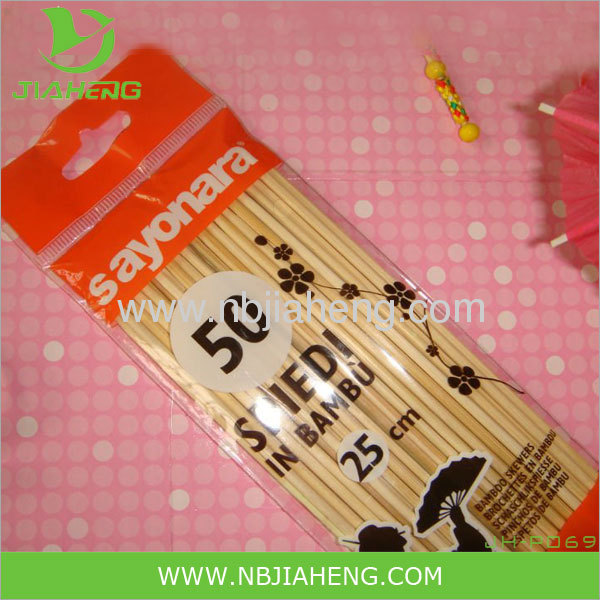 Description

| | |
| --- | --- |
| Name | Disposable bamboo barbecue skewers |
| Usage | Tableware,household ,Dining,picnic,camping,Resturant .etc |
| Material | 100% Mao bamboo |
| Length | Normal lengths : 9cm,10cm,12cm,15cm,18cm, 20cm,25cm,30cm,35cm, 40cm,50mm etc. |
| Dia | Normal diameters :1.3mm,2.0mm, 2.5mm, 3.0mm, 4.0mm and 5.0mm. |
| Color | Natural color |
| Feature | Eco-friendly, smooth, clean, safe to use, hard ,no joint,no sticks |
| Production types | knotted&handle skewers ,round skewers so on |
| Inner packing | 100pcs/bag,100bags/carton .Personified design and logo are workable .up to your option. |
| Outside packing | Standard exporting carton |
| Quality | A,A/B,B ,up to your choice |
| Market | North America ,Europe,Korea,Japan ,Russia and so on |
Company introduction

Our pampany is a professional manufacturer of bamboo prouducts.we mainly produce bamboochopsticks(Disposable and reusable bamboo chopsticks),bamboo skewers etc.Our products are all made of 100% pure Mao bamboo,have passed high-temperature sterlizing,We have micro-wave ultraiolet machines ,before packing ,All of our products will go through these machines to kill possible germs and worm in the bamboo skewer.and then drying ,healthy,hygienic,convinient and safe to use ,Our products mainly export to Uinted states ,Japan ,South Korea ,We try our best to serve our customers with our high-quality products and fair price .Welcome to contact us .

goods specification:round bamboo sticks,round bamboo skewers,knotted skewers,flower skewers,gun shape skewers,skewer with handle,golf skewer,BBQ skewers,round BBQ sticks and so on.high quality and cheap price .no mould exists ,clean and smooth ,healthy and convinient ,different packing methods are available .

Grade A disposable tableware bamboo skewer
Product Description
A skewer is a thin metal or wood stick used to hold pieces of food together. They are used while grilling or roasting meats, and in other culinary applications.
Metal skewers are typically stainless steel and will have a pointed tip on one end and a grip of some kind on the other end for ease of removing the food. When grilling, wooden skewers must be soaked to avoid burning. Wooden skewers are often made from bamboo; However, other woods may be used.
Our advantage
1) Products is made of the natural bamboo by all machines, technologically advanced printing engraving.
2) The quality of product has reached the national standards for food safety law, has been export of various countries.
3) We can also provide you free samples if you need,the buyer should undertake the sample freight.
4) If you are interested in any of our products or would like to discuss a custom order, please feel free to contact with us. We are looking forward to forming successful business relationships with new clients around the world in the near future.
Grade A disposable tableware bamboo skewer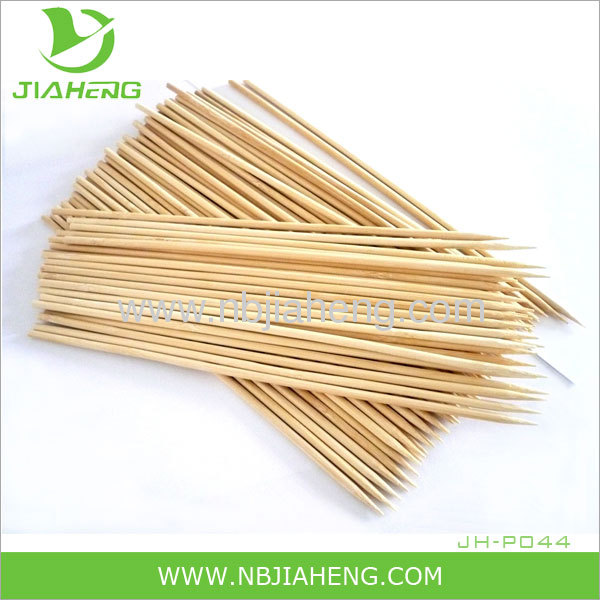 About bamboo skewers
Allow the skewers to soak for a minimum of 20 minutes, and up to 3-4 hours.
For a gourmet presentation and an added depth of flavor to your grilled meals, experiment with soaking skewers in wine or juice.


Another tip for frequent grillers: When you buy a pack of bamboo skewers - soak them all, then drain well, place in a sealable plastic bag and stick them in the freezer. They'll keep just fine, and you'll be able to get your goods on the grill quicker. In particular, vegetarians and vegans will find skewers helpful for holding tofu, seitan and vegetarian kabobs in place on the grill, and they're great for grilling cheeses, and just about any vegetable.

Grade A disposable tableware bamboo skewer

Alternatives to bamboo skewers:
You may prefer to use metal skewers, which come in longer lengths, have a convenient handle and can be reused. It's a personal preference. If you prefer metal skewers, you'll find that the metal skewers with flat edges, as they tend to prevent the food from slipping and sliding around a little bit better than the metal skewers with round edges.
The good news is, bamboo skewers are cheap and easy to use. The bad news? Well, there isn't any, really. They're cheap, and bamboo is a replenishable resource. If they aren't too charred, you can even reuse your bamboo skewers.

If you want more detailed information of this product or related problems, please contact with us, we will reply as soon as possible (general in 24 hours)..