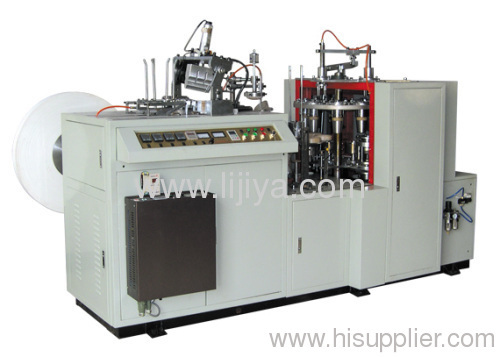 Double sides PE coated paper bowl machine
is devoloped on WY-WC single side PE coated paper bowl machine. In this type bowl machine,you can produce both single side PE coated paper bowls and double sides PE coated paper bowls.
This machine also runs a whole procedure of paper-feeding , bowl-fan-wall sealing, oiling, bottom punching, heating, rolling, rimming, rounding and tripping. It is an idea equipment of producing soup bowl, bigger paper cups and other large food cone-shaping containers.
Main Technical Data:
1.Paper Bowl Sizes: 20,25,30,35,40,45,50,60 OZ or other sizes.
2.Row material:
Single and Double sides
PE(polyethylene) film coated paper
3.Suitable paper weight: 180--450 gsm (Recommend 240--350 gsm)
4.Speed of making paper bowls: 30--45 pcs per minute
5.Limit of temperature control: 0--400 Centigrade
6.Total power: 6 KW
7.Power source: 380 V,220V 50 Hz,60 Hz or other Customer needed
8.Whole machine weight: 2400 kg
9.Appearance size(L x W x H): 3000 x 1300 x 1600 mm
Note:We can make the paper bowl machine suitable for your requirement.
ucts' Usage:
Double sides PE coated paper bowls are widely used as large capacity container: soup bowls, noodle bowls, handy container and other fields

Specifiction:
Automatic control adopts optically controlled non-contact switch,
Micro-controlled transducer,
Step-less speed adjustment,
Paper Bowl-fan-wall body sealed by Ultrasonic System,
Paper Bowl bottom sealed by heater (or hot air station),
Full automatic,
Easy changing molds produce different sizes paper bowls,
Easy operating by operator (one operator is enough),
Easy maintenance with minimum cost,
Cheap operating cost and low investment,
Amelioration:Air compressor aren't required for this type paper bowl machine when the paper weight under 300gsm.