Product name :
Blue chenille mop with pp handle steel pole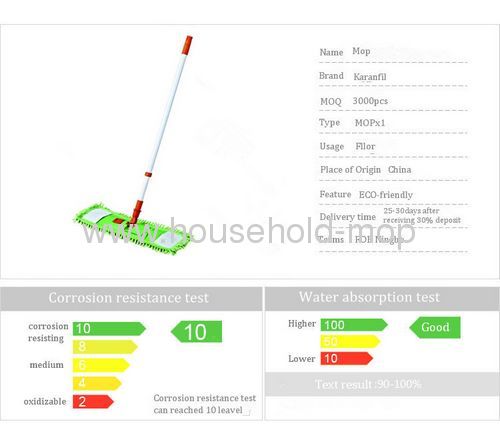 Stainless steel pole
Changeable refill
Durable and useful
Good absorbent capability
More efficient and labor-saving
Adjustable for different height
Collect dust and wipe out water together
Easy operation keeps your hands free from dirt and water
Item No.

AJ007A

Brand Name

karanfil

Net Weight

0.6KG

Handlel Length

67120CM

Refill Size(Length*Width)

45*15CM

Tube Diameter(Up*Down)

19*22 MM

Head Weight(Dry)

0.1KG

Type

Foldable, Separable

Tube Material

Painted Iron

Feature

Excellent Detergency

Structure

Strong Water Absorbent chenilleMop Head

Remarkable Water SqueezingFold chenille Mop

High-Strength And Durable Plastic Fork

Ergonomic And Labor-Saving Plastic Puller

Extremely Wear-Resisting And Anti-Rusting Painted Iron Tube

Hanging Conveniently Plastic Cover

Telescopic, Separable And Flexible Handle
Net Weight

0.6KG/PC

Gross Weight

KG/CTN

Package Details

12PCS/CTN, Standard Carton Package

Carton Size

**CM

40HQ QTY

PCS

Min. Order QTY

5000PCS

Transportation

BY sea

Price Term

FOB

Payment Term

30%Down Payment+

70%After Sending B/L Copy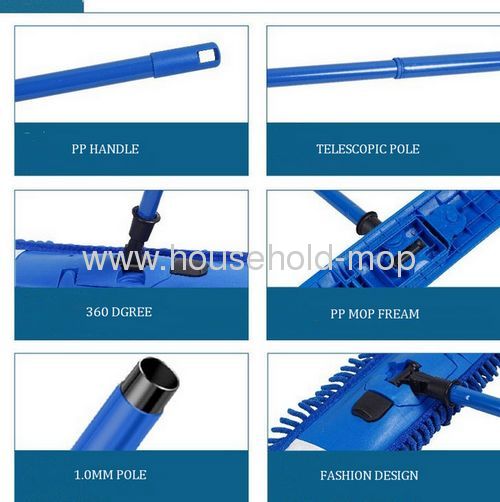 Our service\Buyer Guidelines
Our strongest point is that we consult. So anything you want to know about filters, please ask us!


About six months ago I purchased a Shark Professional Steam Mop. I had one of the entry level ($79 -$99) Shark steam mops and was very disappointed. The reason for my disappointment was because after just a few months of use, the product broke. The problem with that mop was that steam is created by pumping the handle which is connected to the base. I'm not sure if it was the handle that broke or something inside that produces the steam. The point is, it stopped producing steam. What good is a steam mop that doesn't produce steam?
With that in my mind, I was a little bit nervous about buying another Shark product, but after using the Shark Professional Steam Mop at a client location and reading several reviews I decided to give it a try for my house cleaning needs.After six months of use, I am glad I have given Shark a second chance.
The Shark Professional Steam Mop comes with everything you need to ensure you'll have extra- clean floors without the use of chemicals. I've put this to the test in many different situations. My two kids (7 and 5 years old) give me plenty of opportunities to test floor-cleaning products out, and the Shark Professional Steam Mop has never let me down. If there is some sort of food caked to the floor, a scuff mark left behind or even a crayon mark on the floor, the Shark Professional Steam Mop will take care of it.
The mop retails for $109-$149, depending on where you purchase it. The increase from the entry level mop is well worth the extra investment. The feel, build and performance of this mop vs. the entry level one is vastly different. The other nice thing with this mop is you don't have to pump the handle to create the steam.As a result, there is one less thing you need to worry about breaking.
The mop comes with the following;
Two square microfiber mop pads and one triangular microfiber mop pad that can be used on both sides. All you have to do is flip the head of the mop over to use the other side. This is a really great feature!
It also comes with a carpet glider, which you use over the microfiber mop pads. This allows you to do a cleaning of area rugs that may have a few small spots on them. They also leave a rug looking fresh.
After using the Shark Professional Steam mop for over six months now, I have nothing but good things to say about it. I really feel like it was money well spent and I'd highly recommend the Professional model to anyone that asked.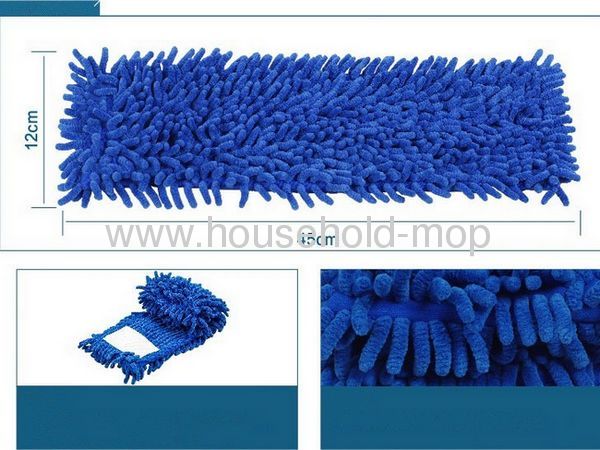 Product Image :Blue chenille mop with pp handle steel pole

1.chenille material with extremely highly water absorption
2.360 swivel alllows convient cleaning for large area and hard-to-reach places
3.parts of the mop such as refill or handle could be provided seperately according your request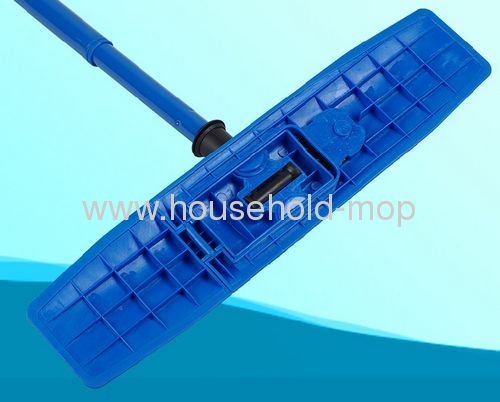 4.the refill could be taken away and replaced easily and it is very durable
5.the colour of the mop set can be designed and made according to your request
6.the handle is extensible
Picture ofBlue chenille mop with pp handle steel pole