New Style Titanium Fishing Pole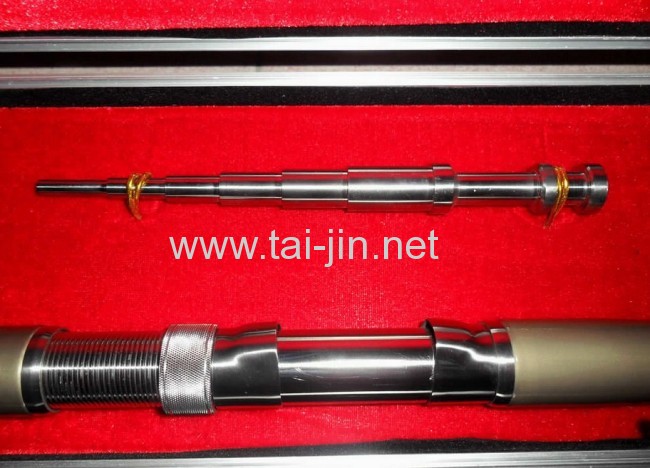 We are Taijin manufacturer for titanium products .Titanium is never stainless in sea water, and it is nonmagnetic and light very much. It is titanium alloy material, it is very light.
The benefits that make titanium so well suited for knives, titanium has many attributes that make it a superior material when it comes to making knives and other tools. These include:
Corrosion resistance -titanium is corrosion proof in all naturally occurring environments. The mpk seal knife has been soaking in seawater four years without a hint of corrosion.
Weight - titanium is 40% lighter than steel
Heat and cold stability-titanium is 800 degrees f more thermally stable than steel. It will not break in subzero weather, whereas, steel will shatter.
Wear/abrasion resistance-with three times the abrasion resistance of steel, titanium is a self-healing metal that forms an oxide ceramic skin over itself when scratched. This gives it the ability to resist wear contact with outside materials such as dirt, sand, ice, mud, nylon webbing, rope, etc.
Superior ductility-the navy seals have been unable to break titanium mpk in over ten years of service. With 12% elongation coupled
Tough-titanium is tough at both high and low temperatures. It resists breaking, cracking or chipping under impact or stress.
Flexibility-titanium may be flexed or bowed repeatedly without undergoing rupture. It has 1/2 of the modulus of steel;therefore, it will bend at least twice as far before breaking.
Non-poisonous-titanium is non-poisonous and biologically inert. It is used as human replacement joints.
Strength-to-weight ratio-titanium has superior strength-to-weight ratios when compared to either steel or ceramic. It is the alloy of choice for aircraft.
Non magnetic-titanium is magnetically inert, and is used by the navy seal and explosive ordinance disposal units (eod) to defuse magnetically triggered mines.
Maybe remembering me in your supplier list is necessary for meeting your possible instant demand.
| | |
| --- | --- |
| C | max 0.08% |
| N | max 0.03% |
| H | max 0.015% |
| Fe | max 0.20% |
| O | max 0.18% |
| Residual | max each 0.1% |
| Residual | max total 0.4% |
| Ti | balance |
Titanium Fishing Pole
1.Titanium Fishing Pole
2.Material : Titanium Grade 2
3.Length : 3.0 meter / 3.3 meter / 3.6 meter
4.Weight : 3.5 KG

5.Packing : Be packed in a individual box .
6.Feature :
Light in weight
High intensity
Safe to use
7. Advantages

Flexible, application-specific design

Production of complex shape anodes

Energy saving potential

Low weight (in particular expanded metal anodes)

Long service time even at high current density

Dimensional stability, long durability of base material

Replating possible

Homogeneous deposition, higher quality of end product
8. Company Development / Expansion Plans


Company Development / Expansion Plans

Item

Company Development Action

Timeframe

1

Developing new products and increasing twice in sales

Within 3 Years

2

To buy a new equipment (automatic coating production line)

Within 1 year

3

To get the certificate of Xi'an Enterprise Technology Center

Within 1 year

4

To pass the evaluation of Titanium electrodes engineering laboratory



9. Quality Assurance




10.Equipment Shear


Precise Temperature Control Resistance Furnace


Precise Temperature ControlResistanceFurnace






10. packaging