Overhead line transmission pulley block for stringing 26-31mm conductors
1.660mm overhead line transmission stringing block
2.Numbers of Sheaves:1,3,5,7
3.The sheave size: Φ660 x560x100
We can supply a complete range of these stringing blocks for single conductor, 2 bundled conductors and 4 bundled conductors stringing.
tem No.

Model

Quantity of sheaves

Working Load (KN)

Weight (kg)

Material of sheaves

10121

SHD660x100

1

20

30

Aluminum

10122

SHS660x100

3

40

106

Central:steel

Sides:aluminum

10123

SHW660x100

5

60

150

10124

SHDN660x100

1

20

24

MC nylon

10125

SHSLN660x100

3

40

92

Central:steel

Sides:aluminum




10126

SHWLN660x100

5

60

120

10127

SHSQN660x100

3

40

76

MC nylon

10128

SHWQN660x100

5

60

110

10129

SHQZ660x100

7

80

268

Central:steel

Sides:aluminum




10130

SHQ660Ax100

7

75

190

Central:steel

Sides:MC nylon



Application:Stringing blocks are used to support the conductors on transmission line during stringing operation and sagging operation.
Nylon sheave blocks are are best sellers in stringing blocks.
The advantages of Nylon sheave blocks:
1.Light
2.Wear resistant
3.Lower price
4.Nylon can effectively reduce the damage to conductors when stringing
5.Long lifespan.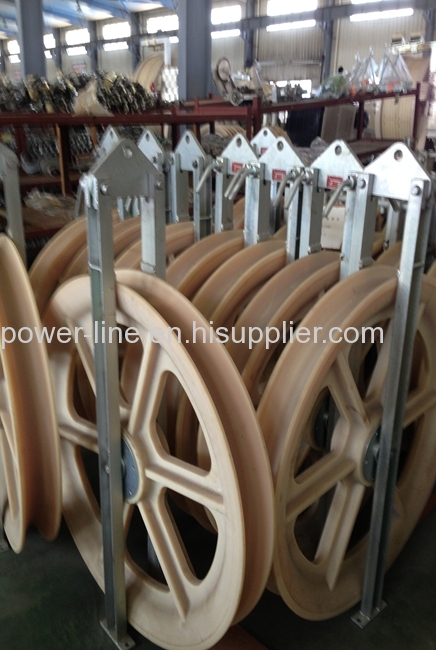 Why we should use conductor stringing blocks?
In the age of electric and information, conductor line transmission becomes more and more necessary. Conductor stringing blocks can make line stringing more flexible and easily with its pulley wheels.
What characteristics should be included to be qualified stringing blocks?
1. The design,manufacture and testing should be in compliance with the industry standard.
2. The safty factor should ≥3
3. The stringing block should be easy for maintenance
4. The Friction coefficient should ≤1.015
5. The stringing block can pass throuhj the running board, Connecting tube protector and rotary connectors smoothly.
6. The steel wire sheave should be designed to reduce the damage to pilot stringing wire.
7. The surface of the block should be smooth, no sharp corners, no sharp edges. There should be no parts trachoma, pores, cracks and porosity and other defects. Welds should be nice and smooth, no burrs, no cracks, no folding, no overheating or burning defetcs to lower the intensity
8. The frame structure should be reasonable and firm,its strength and rigidity should be in accordance with the requirements. It should be made of high-strength materials to reduce the overall weight of the multiple sheaves block.The joints should be set with safe stop device, and ease of disassembly. A reasonable ceiling hanging ring is necessary too.