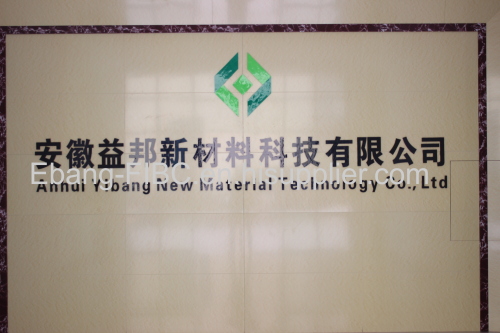 Anhui YiBang New Material Technology Co., Ltd is proud to present you brand Ebang FIBC(Big Bag/Jumbo Bag) and many other PP woven product!
1.Company Introduction:
1.More than 10 years experience for manufacturing FIBC/ Big Bag
2.Total Number of Employee: 155
3.Number of R & D Staff: 12
4.Factory Area: 10,000 m2
5.Warehouse: 3000m2
6.Whole factory is controlled by ERP-Enterprise Resource Plan

We are providing below ranges of products/service:
1.FIBC/ Big Bag
2.Dry Bulk Liner
3.Flexitank
4.Packaging Optimize Solution
5. Grocery Bag/ Shopping Bag
6.OEM Service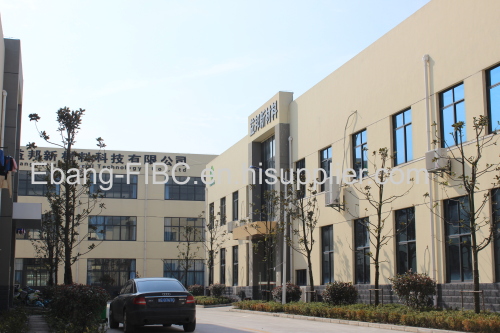 Why FIBC
A flexible intermediate bulk container (FIBC) or bulk bag, or big bag, is an industrial container made of flexible fabric that is designed for storing and transporting dry, flowable products, such as sand, fertilizer, and granules of plastic.

FIBCs are most often made of thick woven polyethylene or polypropylene, either coated or uncoated, and normally measure around 110 cm or 45-48 inches in diameter and varies in height from 100 cm up to 200 cm or 35 to 80 inches. Its capacity is normally around 1000 kg or 2000 lbs, but the larger units can store even more. A bulk bag designed to transport one metric ton of material, will itself only weigh 5-7 lbs.
Transporting and loading is done on either pallets or by lifting it from the loops. Bags are made with either one, two or four lifting loops. The single loop bag is suitable for one man operation as there is no need for a second man to put the loops on the loader hook. Emptying is made easy by a special opening in the bottom such as a discharge spout, of which there are several options, or by simply cutting it open.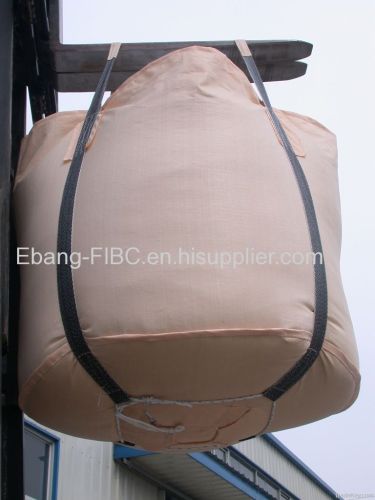 2 Product Specification
| | |
| --- | --- |
| Description | FIBC |
| Raw Material | 100% virgin PP |
| Color | All kinds of colors |
| Printing | One side or both sides in multi-colors with film or non film |
| Width | From 300-700mm |
| Length | As the customer's requirement |
| Weave | 10×10, 11×11, 12×12, 14×14, 12×11 or be customized |
| Denier | 600D to 1500D |
| Weight/ m² | 60g-270g |
| Surface dealing | Anti-slip or plain |
| Top | Full open/with spout/with skirt cover |
| Bottom | Flat/plain/with spout |
| Liner | Coated or with liner bag for moisture proof |
| Sewing | Plain/chain/chain lock with optional soft-proof |
| Lifting loop | 2 or 4 belts, cross corner loop/fully loop/loop in loop |
| Ropes | 1 or 2 around the bag body |
| SWL | 500kg-3000kg |
| Safty Factor | 3:1, 5:1, 6:1 |
| Payment Term | T/T(30% of amount deposit and 70% balabce after receiving the B/L copy) |
| Delivery Time | 25 days |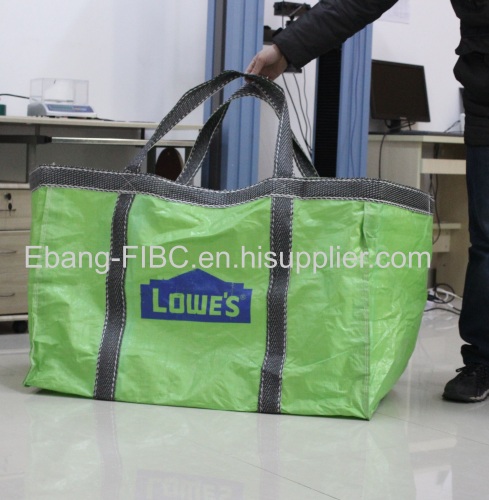 3 FAQ:
Q1: What's your Product Range?
1. Jumbo bag/ ton bag/ big bag/ super sack/ container bag
2. Plastic woven bag, poly-woven bag.
3. Shopping bag.
4. Mesh vegetable fruit bag.
Q2: Are you a manufacture?
Yes, we have been in providing professional solution in plastic woven industry for over 10 years.
Q3: Do you have stock products to sell?
No, we work on OEM orders. That means size material quantity packaging solution, etc will depend on your requests.
Q4: What information should I let you know if I want get a quotation?
-The size of the bag (Length * Width * Height) or (diameter * height)
-The material and surface handing
-The bag's color and the loop's color
-The quantity
-The bag's working condition, service time usage, temperature, the goods save way, light application time.
- If it is possible, please also provide with picture design sketch for checking, sample will be best for clarifying, If not we will recommend relevant products with details for reference.
Q5: How long will the sample be finished? How your factory production scale?
Generally, 1-2 days for sample making.
The lead time of mass production will depend on quantity, quality, and existing orders. Above all can be push as urgent.
Q6: How do you inspect the quality of our order?
We have the perfect methods, equipment, and also expert QC to ensure the quality of products.